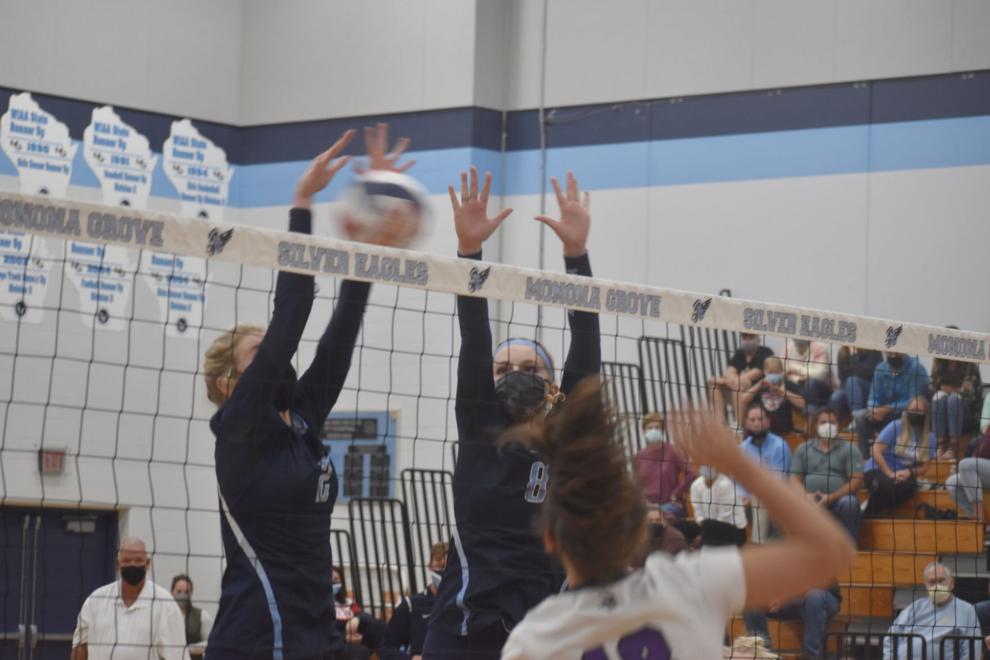 On their home court, the Silver Eagles went 3-2 and walked away with a third-place finish in the Monona Grove Invitational on Saturday, Sept. 25.
In pool play, the Silver Eagles went 2-1 with a loss to Randolph (18-25, 15-25) but wins against Stoughton (25-22, 25-16) and Oregon (25-12, 29-27) to advance to the championship bracket.
In the championship bracket, Monona Grove lost to Kaukauna (25-19, 25-19, 15-8) to move to the third-place game. Monona Grove defeated Wisconsin Rapids (25-13, 25-18) to win third place. Randolph won the tournament.
Sophomore middle blocker Brooklyn Tortorice had 32 kills and nine blocks. Senior defensive specialist Sophi Melde had eight aces. Senior defensive specialist Courtney Havertape had 32 digs and senior setter Jada Braun had 66 assists.
Senior outside hitter Emersyn looks to spike the ball in Monona Grove's 3-0 win against Stoughton on Thursday, Sept. 23.
Monona Grove has a record of 17-12 on the season.
Monona Grove took care of Stoughton with a 3-0 victory on Thursday, Sept. 23.
"Our serving was really strong tonight. We were really trying to control at the backline so we could really get Stoughton out of system," said Monona Grove head coach Todd Andersen-Goldsworthy.
In the first set, Monona Grove led the entire way. A timeout by Stoughton when MG was ahead 16-11 gave the Vikings some momentum. They brought the game within three. However, the Silver Eagles extended the lead to 20-13 before Stoughton called its final timeout. Monona Grove went on another run to win 25-14.
In the second set, Stoughton kept the score closer, but still struggled to keep Monona Grove from pulling away. The Vikings used their first timeout after the Silver Eagles went up 14-9, and then had to use their second timeout at a score of 20-14 in favor of MG. Both teams traded points until Monona Grove won the set 25-19.
In the third set, Monona Grove took an early 4-2 lead before Stoughton went on a 9-1 run forcing an MG timeout. After the timeout, Stoughton increased its lead to 12-5 before the Silver Eagles went on a tear. Rattling off 14 straight points caused Stoughton to use two timeouts with Monona Grove in command at 19-12.
"It's good to see the team come together at the end to make it a team win," said Andersen-Goldsworthy.
Monona Grove won the third set 25-17 to win the match. Sophomore middle blocker Brooklyn Tortorice had nine kills, senior outside hitter Emersyn Lang had two blocks and senior defensive specialist Sophi Melde had six aces. Senior setter Jada Braun had 17 assists and eight digs.