The line of flames sent billowing smoke skyward. The ominous contrast to the clear blue sky was visible across Rock Lake. But no alarm sounded. No siren wailed. This was a good fire.
On Friday, April 30, the Jefferson County Park Department crew conducted their prescribed burn of 30 of the 89 acres in Korth Park, which is located on the western shore of Rock Lake.
"The burn is part of the park's master plan," says Kevin Wiesmann, interim park director, who was on site for the burn. "Specifically, preserving threatened native grassland communities for ground nesting birds and the wide variety of insects, reptiles, amphibians, and mammals that call the park home."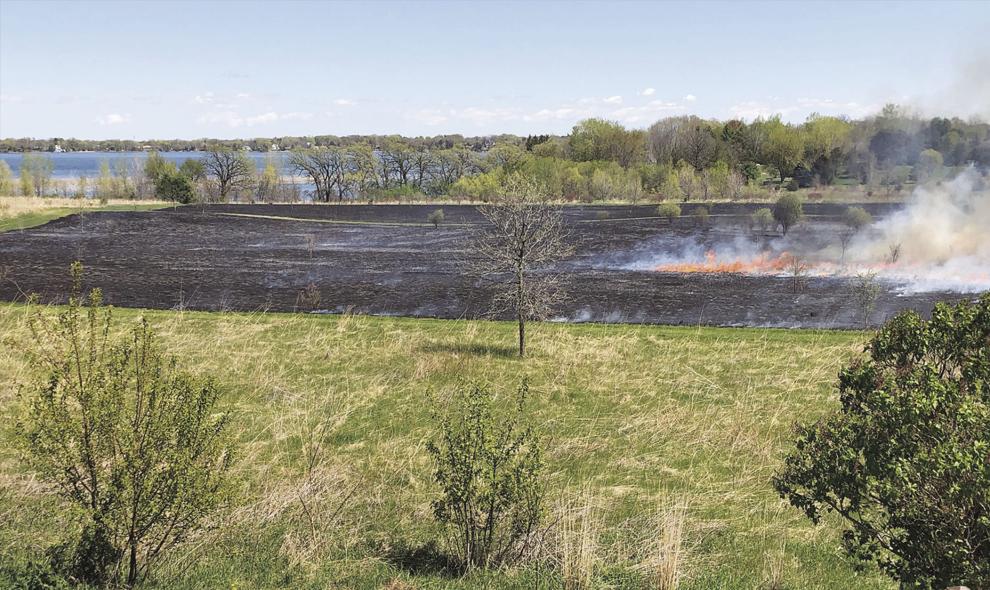 The park's master plan, developed by land management professionals and members of the surrounding communities, was completed in February 2001. The plan aims to restore native ecosystems and to promote biodiversity, water quality and wildlife habitat.
Prescribed burning typically occurs during the early spring (March-April) and late summer/fall (July-November). These are the periods when desirable plant and animal species are less active and less vulnerable. 
Kevin and his crew of six spent four hours carefully going about their methodical procedures.
Before they took to the field, their burn plan was approved. A burn plan includes critical elements such as 
desired weather conditions, site and fuel conditions, topography, anticipated fire behavior, a communication plan, escape routes and safety zones, a review of special hazards, each individual's responsibility during the operation and species of special concern.
All of this information allows the burn boss to consider all actions, prior to and during the burn, effectively.
"It is critical that anyone conducting a prescribed fire have proper training and experience. While burning with the DNR and as a private contractor, I've seen several occasions where individuals have chosen professionals to conduct their fires after significant, surprise experiences," according to Dan Wallace, a 32-year fire veteran.
Since the park was established in 2001, over 12 burns have been conducted in rotating sections.
A treasure trove to preserve
Korth Park's 89 acres includes an 8-acre restored oak savanna featuring some trees over 250 years old. There are more than 60 acres of tall grass prairies. There is also 1300 linear feet of shoreline that has been stabilized and restored over the years.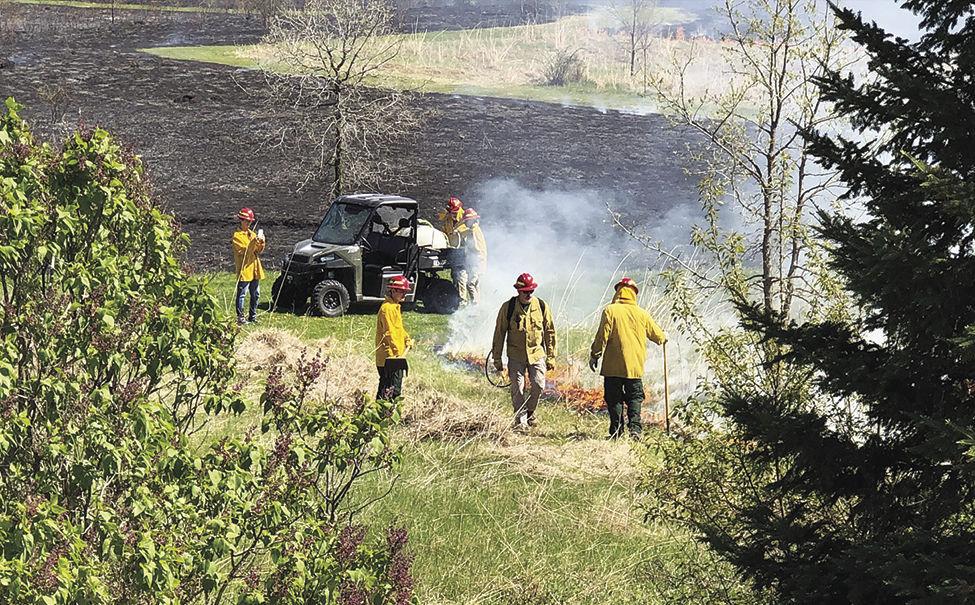 Fire stimulates native vegetation germination and growth, alters vegetation structure and hinders invasive species encroachment.
Without a periodic burn, invasive species such as buckthorn, honeysuckle, and black cherry would take over the Park and crowd out the good native grassland vegetation. Desired vegetation includes big and little blue stem, purple coneflower, wild white indigo, spiderwort, rosinweed, golden alexander, black-eyed Susan, butterfly weed, milk weed, and many more.
Nesting birds such as bobolink, meadowlarks, warblers, eastern bluebirds, Sandhill cranes, and wild turkeys currently thrive in Korth Park. High above them all on a 54-foot platform sits the osprey nest.
Through prescribed burns, Jefferson County is also using an essential tool to minimize atmospheric CO2.
According to the Wisconsin Prescribed Fire Council, fire-adapted ecosystems store large amounts of carbon in plant roots. Even with prescribed burning, fire-adapted ecosystems sequester more carbon than they emit.
Restoring, managing and preserving native ecosystems can mitigate carbon increases occurring in our atmosphere. Wisconsin's native ecosystems provide many other direct and indirect ecosystem services including supporting pollinators, managing storm water and increasing ground water recharge.
Prior to becoming Korth Park, the property was farmed by Lake Mills resident, David Korth and the Korth family for 120 years. The Park's master plan of transforming farmland to woods and prairies has been time-consuming but rewarding.
Hikers, bikers, dog walkers and other users of the 3.2 miles of trails can attest to the ever-changing beauty around them. Thanks to the continuing stewardship by dedicated park crews, many Jefferson County creatures, both two- and four-legged, will enjoy this jewel of our parks system for generations to come.