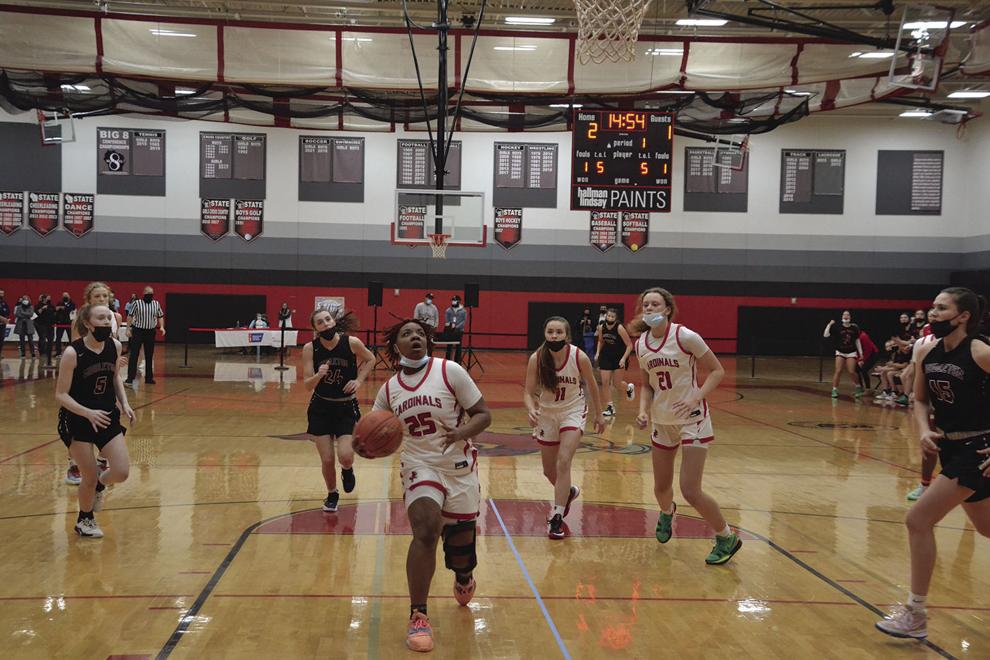 The Sun Prairie girls basketball team entered a home game against Middleton on Saturday, Jan. 8 with something to prove. The Cardinals had had more than a week off since their last game, a 72-47 non-conference loss to the Milwaukee Academy of Science.
Still, Sun Prairie sat atop the Big Eight conference standings with a 5-1 record. Middleton entered with a 5-2 conference record, looking to dethrone its bitter rival and leap into the top spot. Sun Prairie was not about to let that happen.
Sun Prairie put together a dominant performance, smothering Middleton with a full court press and lighting up the score board on the other end to claim a 72-27 victory.
"Our defense was strong," Sun Prairie head coach John Olson said. "We went at them. We weren't going to be passive or scared. We entered the game on top, we wanted to stay on top in the Big Eight. That was our goal."
While the point total was impressive for Sun Prairie, it took the Cardinals some time to get rolling. Shots weren't falling as they shook the rust of a long break off. Luckily, the defense wasted no time getting up to speed.
Specifically, the press Sun Prairie ran was well planned and worked to perfection. Olson put his 6'1" forward, junior Makiah Hawk, on the inbounds passer and had her rotate to the first pass for a double team. Her long arms poked the ball out of passing lanes frequently and were constantly disruptive, frustrating the Middleton side.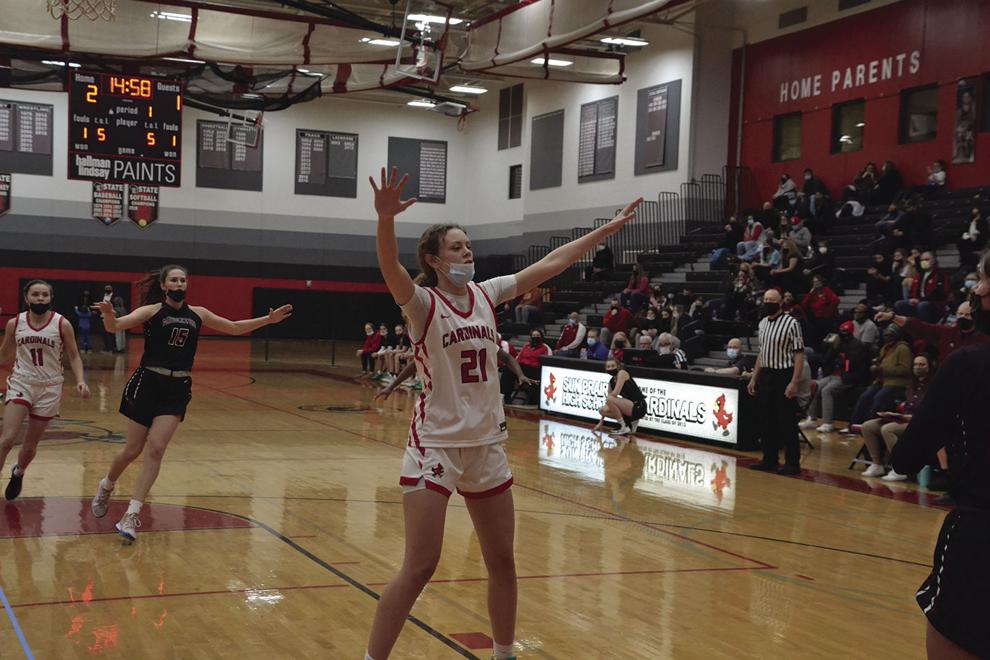 As the steals started to pile up for Sun Prairie, so did the points. Juniors Marie Outlay and Antionique Auston both got red hot from the field. Auston found her buckets in the lane, slashing through defenders and taking steals to the rack. As for Outlay, she did her damage from outside, knocking down two early 3-pointers as Sun Prairie erupted to a 24-9 lead.
"Once we got settled in, we were fine," Olson said. "They threw a 1-3-1 at us, which we haven't seen them run lately. But, we haven't played for so long. After a timeout or two, we settled in and got some really good looks."
Middleton's only answer was an impressive early shooting performance from senior McKenna Monogue. She hit some deep 3-pointers to keep Middleton afloat, because that was the only shot available. The Sun Prairie half court defense was just as imposing as the press. The Cardinals flew around the court, challenging passes and coming up with steal after steal.
When the halftime buzzer sounded, Sun Prairie held a 33-15 lead. Outlay led the way with 13 points, followed closely by Auston with 11.
Things did not get any easier for Middleton in the second half as Sun Prairie didn't miss a beat coming out of the break. Auston had been displaying some impressive passing skills all game, and Hawk was the recipient of many of them in the paint as she found her way to the free throw line three times to kick off the half.
As Outlay and Auston continued to get their buckets, a third scorer emerged for the Cardinals to really hammer the point home. Junior guard Avree Antony led a 19-0 run, scoring eight of the points thanks to some solid work driving the ball.
While this scoring persisted, so too did the defensive performance. Hawk's blocks in the middle, coupled with heads-up defending from the guards to pick off steals, made scoring incredibly difficult on Middleton. The Cardinals managed just 12 points in the second half.
Outlay led all scorers with 24 points, buoyed by her six made 3-point attempts. She had as many total field goals made (9) as the entire Middleton team on the day. Auston followed with 17 and Antony broke into double-digits with 11.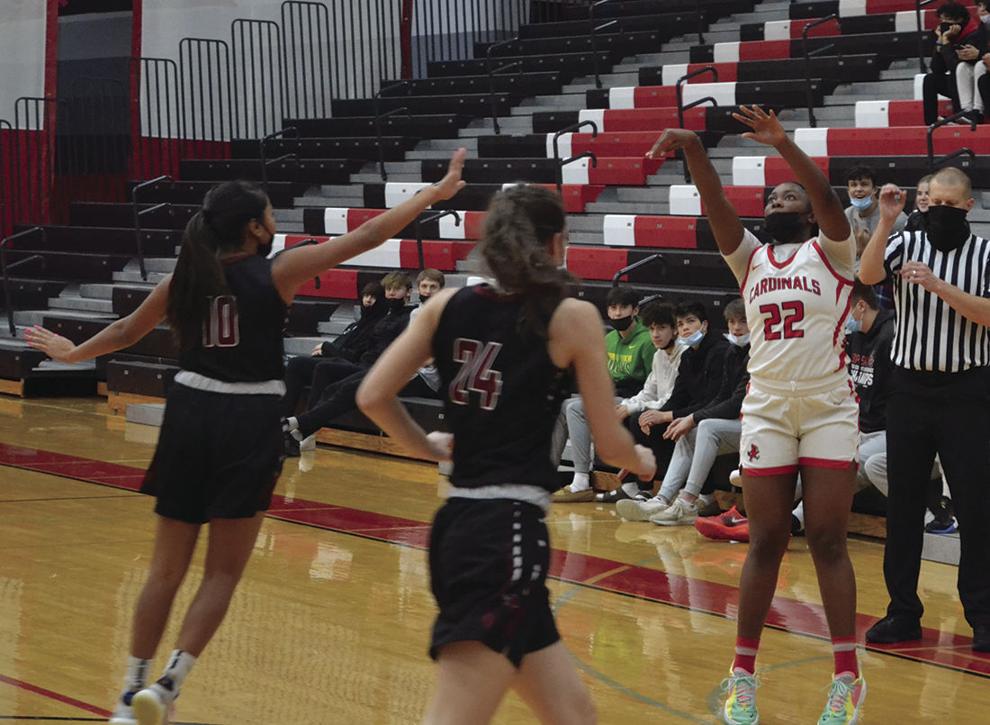 With the win, Sun Prairie remains in sole possession of first place in the Big Eight.
"This creates a lot of momentum," Olson said. "There are a lot of positives to take from today. Middleton traditionally is always very tough. They're well coached and have great players. But, it's our time."
Next up, Sun Prairie has a non-conference home game against Edgewood on Tuesday, Jan. 11 before back-to-back conference games. Sun Prairie will take on Madison Memorial on Friday, Jan. 14 and turn right around and play Madison West on Saturday, Jan. 15.
BIG EIGHT GIRLS BASKETBALL STANDINGS
(overall records in parenthesis)
1. Sun Prairie, 6-1 (9-2)
2. Madison La Follette, 6-2 (7-2)
T3. Janesville Craig, 5-2 (7-5)
6. Madison Memorial, 4-2 (4-5)
7. Beloit Memorial, 3-5 (4-7)
8. Madison East, 1-5 (2-5)
9. Janesville Parker, 1-7 (1-12)
10. Madison West, 0-7 (1-8)
GBB: SUN PRAIRIE 72, MIDDLETON 27
SUN PRAIRIE
#
NAME
2PT
3PT
FTS
PTS
3
A. Antony
4
1
0-1
11
11
R. Rademacher
2
0
0-2
4
12
Make. Hawk
1
0
0-1
2
14
K. Bindley
0
0
2-2
2
15
L. Strey
0
0
2-2
2
20
A. Schmidt
0
0
0-2
0
21
Maki. Hawk
2
0
4-6
8
22
M. Outlay
3
6
0-2
24
25
A. Auston
6
1
2-3
17
TOTALS
-
18
8
10-21
72
MIDDLETON
#
NAME
2PT
3PT
FTS
PTS
5
E. Schluesner
0
1
0-0
3
14
M. Monogue
1
3
0-0
11
15
A. Deptula
0
2
3-4
9
22
K. Cowling
1
0
0-2
2
24
E. Frisch
1
0
0-1
2
TOTALS
-
3
6
3-7
27