BEAVER DAM — There was never a doubt in Payton Addink's mind that the Sun Prairie volleyball team wouldn't prevail in Tuesday's WIAA Division 1 Alternate Fall Sectional and advance to the state tournament, not even when the Cardinals trailed neighboring DeForest late in the sectional championship game.
The senior outside hitter helped the top-seeded Cardinals rally from a 12-10 fifth-set deficit, scoring three of her team's final five points in a heart-stopping 3-2 victory over the No. 3 Norskies.
"I was super confident in our skills in volleyball," said Addink. "We weren't playing like ourselves in the third and fourth sets, but we came back and played our own game."
Addink had three kills in the final moments, including the final dagger, coming off an assist from junior Lily Schellpfeffer that gave Sun Prairie (10-3) the victory and a third consecutive trip to the WIAA Division 1 state tournament.
"I knew I wanted to put that ball away," the senior and future University of Minnesota-Duluth Bulldog said. "I did not want it to be 14-14 and then give them a chance to win."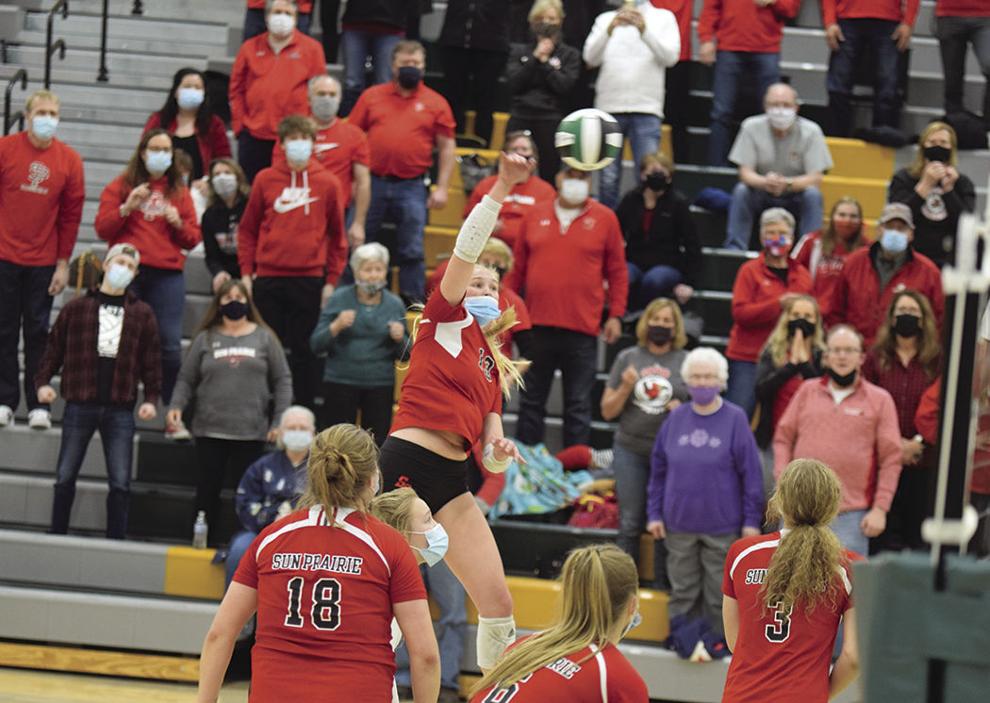 "I was glad Lily set Payton because she was on," said Sun Prairie head coach T.J. Rantala of Addink, who finished with 15 kills in the title game to match her 15-kill performance in the semifinal win over Eau Claire Memorial earlier in the night. "As you saw in the semifinals where I think she hit over .600, she is our person and we need to find her in moments like that."
After taking care of fourth-seeded Eau Claire Memorial 25-18, 25-15 and 25-17 in the sectional semis, Sun Prairie won the first two games of the final, 25-23 and 25-13, taking a 2-0 lead over the Norskies (10-3).
But DeForest didn't go away quietly, in fact, it didn't go away at all, winning the third and fourth games, 25-12 and 25-19, to force a fifth set.
"DeForest serves the eyes out of the ball," said Rantala. "We know each other so well that they know who to serve at and we know who to serve at — it's one of those games where you almost know too much about each other — that's pretty dangerous.
"We crumbled in the third (set), so to be able to come back, and I know it took us until the fifth (set), was huge."
The fifth set was close before the Cardinals pulled ahead 7-4. But the Norskies rallied to not only tie the decisive game, but took an 11-10 lead when Haley Czarnezki's spike found the floor. A tip kill upped DeForest's lead to 12-10 which forced Rantala to call a timeout.
Addink quickly got one of the points back before DeForest's Natalie Compe sent a spike wide, tying the game at 12-12.
Sun Prairie senior middle blocker Maggie Allaman, a University of St. Thomas commit, served up an ace to give the Cardinals the lead, but it was tied back up when Sun Prairie committed too many hits.
Back-to-back Addink kills ended the match and sent Sun Prairie to its fourth state tournament in the last five seasons.
"I'm super excited. I couldn't ask for more," said Addink.
Allaman complemented Addink with 13 kills while adding two aces and two blocks, while Schellpfeffer handed out 31 assists and also had two service aces.
Schellpfeffer had 42 assists in the win over Eau Claire, while senior Emily Mickelson made 22 digs and senior Cora Lubahn had two service aces.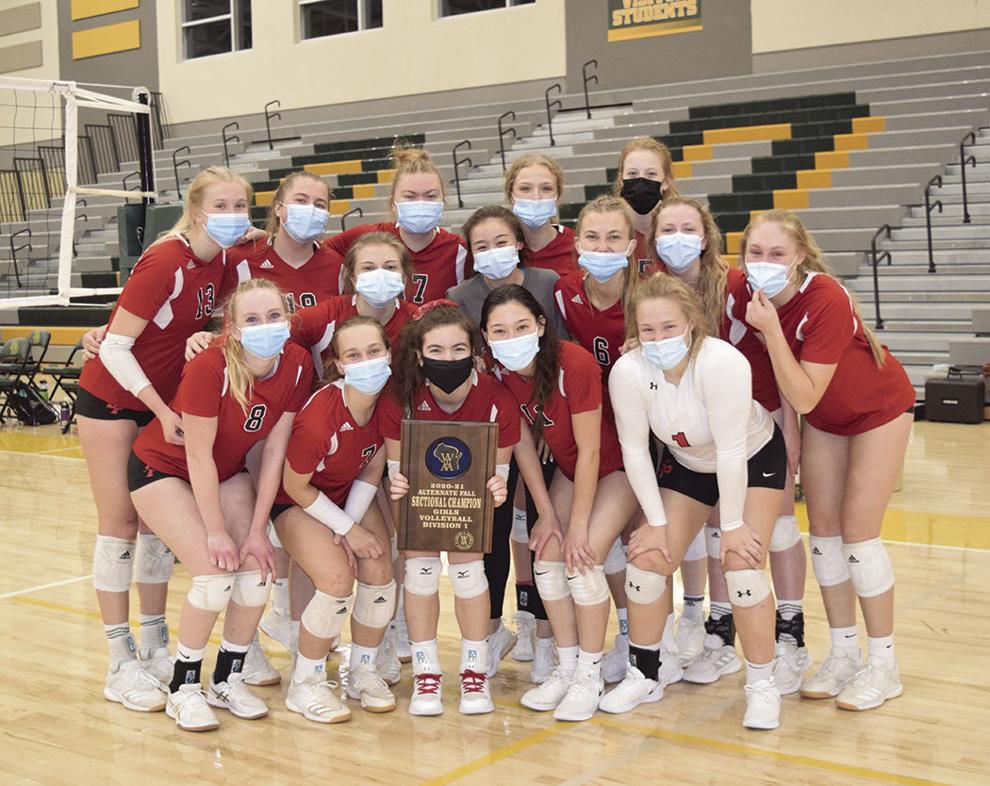 DeForest needed five sets to upend No. 2 seeded Holmen in Tuesday's other semifinal, 25-23, 20-25, 25-20, 21-25, 15-10.
The WIAA state semifinals will be played Thursday in two separate spots, one at Kettle Moraine and one at Beaver Dam. Also qualifying in Division 1 were Appleton North, McFarland and Manitowoc Lincoln.
Sun Prairie received the No. 3 seed and will play No. 2 Manitowoc Lincoln in Thursday's state semifinal at 4:15 p.m. at Kettle Moraine High School. No. 1 Appleton North plays No. 4 McFarland in the other Division 1 state semifinal.
The WIAA Division 1 Alternate State Tournament championship game will take place Saturday at 7 p.m. in Kaukauna.
The state tournament appearance is the sixth in program history for Sun Prairie.