BARABOO — Not many opportunities came Sun Prairie's way in Friday's WIAA Division 1 regional semifinal, and when they did the Cardinals didn't execute enough. The end result was a 66-51 season-ending loss to DeForest at Baraboo High School.
"I kind of felt from the beginning we weren't consistent, we had inconsistencies on both ends of the floor," said Sun Prairie head coach Jeff Boos. "Defensively we were just kind of plugging holes here and there. We had a lot of empty possessions that were costly, and when you have them in the tournament it's tough."
The Cardinals played just 11 games this season due to restrictions placed upon them by both the Public Health of Madison and Dane County order and the Sun Prairie Area School District during the pandemic. Meanwhile, the Norskies were able to play 19.
"When you're limited on what you can do just makes it harder," Boos said.
Sun Prairie held just two leads in the first half that totalled just over a minute. Meanwhile, DeForest (13-5) opened up an 11-point lead after scoring the first six points of the second half.
"That run really hurt," said Boos.
But the Cardinals would answer as senior Connor Carpenter hit a basket, before junior Addison Ostenga's three-point play cut the Norski lead to 37-31 with 13:27 remaining.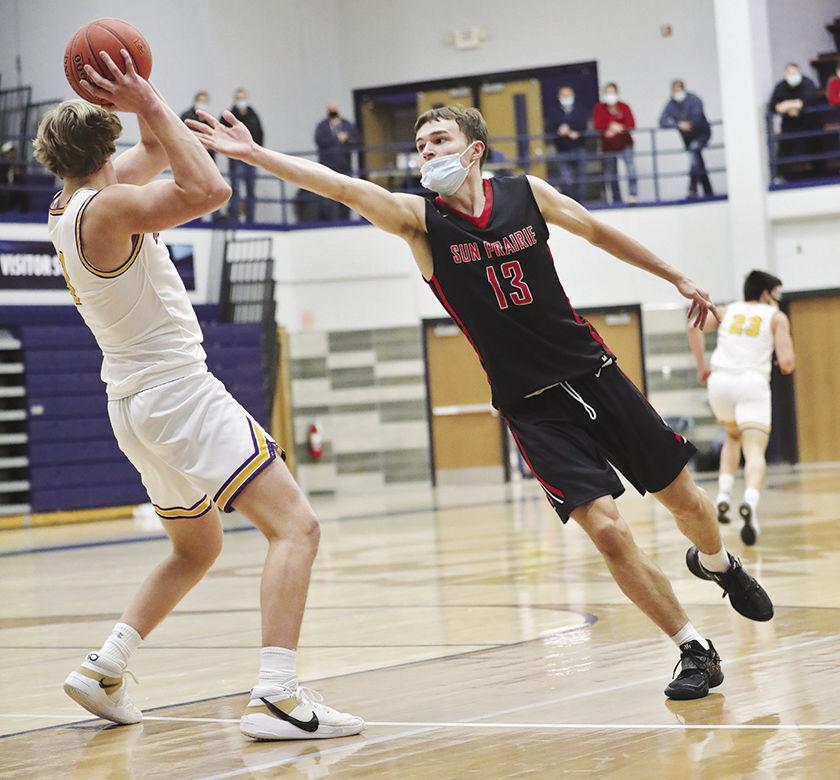 "I felt like we had some momentum there, but then that play happened," said Boos.
The play he's referring to came on DeForest's next possession. Following a missed shot the Norskies got two offensive rebounds before Magli wound up scoring, beginning a 10-3 run that ultimately was the end for Sun Prairie.
"That took the air out of us," added Boos.
Coming into the regional semifinal the third-seeded Cardinals (5-6) were primed to stop or at least contain DeForest junior guard Max Weisbrod, averaging a team-best 17.2 ppg.
"I thought we did a good job on Weisbrod. He's a really good player, but their other guys stepped up. We just weren't able to contain them enough to keep it in a position where we could get them at the end," said Boos.
Weisbrod finished just shy of his season average with 16, but the player that did the most damage to Sun Prairie was Deven Magli. The junior guard scored 15 of his team-leading 17 points in the second half.
Senior Drew Houtakker also scored 17 points, while the Cardinals got 13 pints from junior Ben Olson and eight from Ostrenga.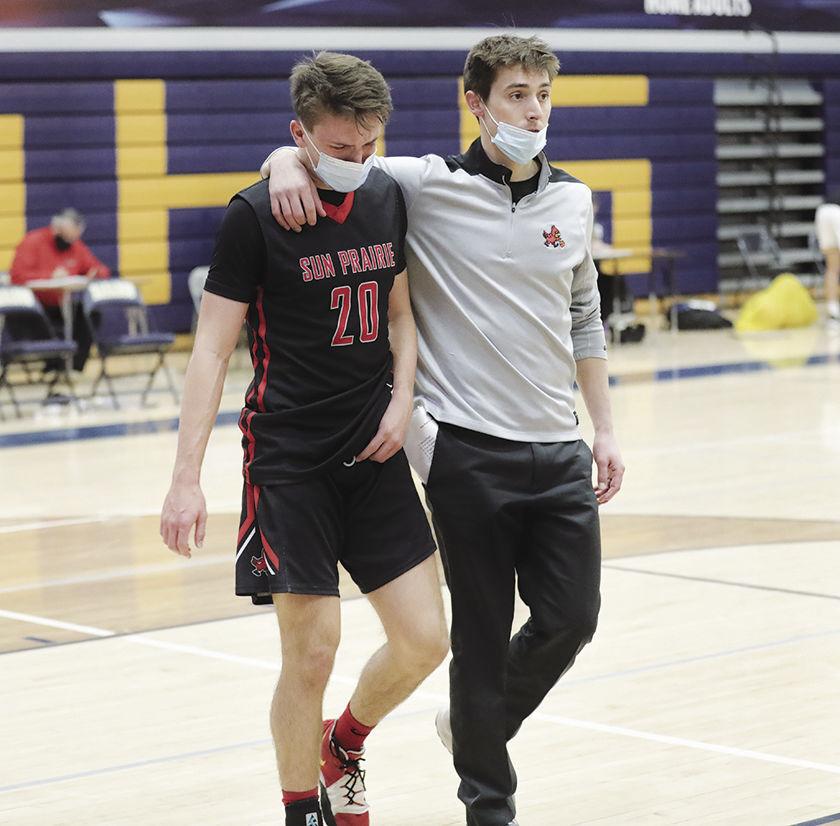 "We persevered," Boos said of the strange-but-true 2020-21 season. "We were fortunate to even have the opportunity to even be playing tonight — for a stretch there it didn't look very good at all — we just plugged away. I thought our kids did some good things considering the circumstances."
DEFOREST 66, SUN PRAIRIE 51
Sun Prairie (fg ft-fta pts) — Hansen 2 0-0 6, Metz 1 0-0 3, B. Olson 6 0-0 13, Carpenter 2 0-0 4, Houtakker 6 4-4 17, Ostrenga 3 2-2 8. Totals — 20 6-6 51.
DeForest — Hawk 3 0-0 6, Grundahl 1 2-3 4, Weisbrod 6 3-3 16, Jansen 1 2-4 4, Fredrickson 2 2-2 6, Vandehey 1 0-0 3, Hausser 1 0-0 2, Magli 8 1-2 17, Hartig 2 2-4 8. Totals — 25 12-18 66.
3-point goals — SP 5 (Hansen 2, Metz 1, B. Olson 1, Houtakker 1); D 4 (Hartig 2, Weisbrod 1, Vandehey 1). Total fouls — SP 19; D 10.