The Sun Prairie wrestling team hosted Madison East on Tuesday, Jan. 4 for a Big Eight showdown. After a handful of forfeits on both sides, the Cardinals put up a spirited effort to earn some hard-fought points. In the end, East emerged with a a narrow 39-36 team win.
Three of Sun Prairie's top wrestlers faced no adversary on the day, earning six points via forfeit. This included sophomore team captain Christopher Anderson in the 106 lbs. weight class, as well as rising freshmen Brennan Hoffman in the 113 lbs. weight class and Jaxon Johnson in the 182 lbs. weight class.
East picked up only two forfeit wins, in the 120 lbs. weight class and the 285 lbs. weight class giving an early edge to the Cardinals before the competition even began.
Sophomore Isaiah Horan got things off to a tremendous start for Sun Prairie. He faced East's A'Veyon Robinson to kick off the matches, and Horan did not disappoint. After a scoreless first period, Robinson nabbed a point early in the second with a nifty escape.
The match turned to a tie at one point each as Robinson was called for locking his hands. From there on, Horan went to work. Before the second period end, he build up a 6-1 lead thanks to two big takedowns. It looked as though he would land a pin, but Robinson managed to keep himself up long enough to escape into the final period.
There, it was more domination for Horan. He immediately landed a massive takedown for three more points. He continued to build his lead through the period, the points flying in as Robinson tried everything he could to get back into the match, opening windows for Horan to attack. In the end, Horan won by a 14-3 major decision, netting four points for his Cardinals.
"He really gutted it out for us," Sun Prairie head coach Jim Nelson said. "He got that major decision to get us four points instead of three. That was great to see. He's doing well this season. He works really hard and just wants to bring it all the time."
Up next for Sun Prairie was Kamron Sarbacker in the 220 lbs. weight class, facing off against East's Angel Tejeda. Tejeda landed an early takedown to secure two points. Sarbacker got right to work on coming back, picking up a point shortly after as Tejeda was whistled for an illegal hold.
The comeback was cut short, however, as a smart move from Tejeda landed Sarbacker on his back. Tejeda landed the pin in 1:56, earning six points for the Purgolders.
Next up was Rachel Zych in the 126 lbs. weight class. She was up against Madison East's Manuel Gonzalez-Jimenez. Zych did a fantastic job defensively for the entirety of the match. Gonzalez-Jimenez scored some early points with some takedowns, but could not get Zych in an advantageous position to capitalize on them.
Midway through the second period, leading 8-0, Gonzalez-Jimenez finally found a way through the strong defensive effort. He landed a pin at the 3:08 mark, earning six more points for East.
The slide for Sun Prairie would stop at the 132 lbs. weight class, which was one of the better battles of the evening. This matchup pitted Sun Prairie's Dylan Muehlenberg against East's Silas Hunter.
While Muehlenberg would eventually get the win, it was Hunter that scored the first points of the match with a takedown. Muehlenberg recovered nicely, battling his way back to his feet to flip Hunter and earn two points of his own. Just as the buzzer sounded to end the first period, Muehlenberg had Hunter heading for the ground for another takedown. It was waved off by the referee, signifying a 2-2 tie heading into the second.
The second period was a test of conditioning and technique. The first minute ticked away without a score as both athletes fought for position and looked for windows to attack. Hunter snagged a point with an escape to assume a 3-2 lead. Hunter's advantage didn't last long as Muehlenberg turned the opportunity into a takedown, picking up a 4-3 advantage to take into the final period.
After another 30 seconds of scoreless battle, Muehlenberg dropped the deciding move. He executed a beautiful reversal, taking a 6-3 lead. An unsportsmanlike penalty assessed to East's coach gave Muehlenberg a 7-3 lead that he would not relinquish. A late escape from Hunter made it a 7-4 match, where it would stand when the final buzzer sounded. Muehlenberg brought a well-deserved three points back to his team.
Sun Prairie's winning ways carried into the 138 lbs. weight class. There, Teague Justman secured a pin over East's Bobby Thao.
It was Justman's match from the jump. Issues with a nosebleed from Thao put several pauses on the match, but Justman never relented. A 2-0 lead grew to 3-1 by the start of the second period. A masterful reversal from Justman grew the lead to 5-1, but he wasn't done there. He found an opening from that reversal and got in position for the pin, securing it at the 3:17 mark to earn six more points for Sun Prairie.
"That was a nice win," Nelson said. "Performances like that add up."
East would not let this momentum run entirely in the Cardinals' favor. Instead, the Purgolders performed well in the 145 lbs. and 152 lbs. weight classes, securing two pins.
Sun Prairie freshman Alex DeZiel was up against Mikel Myadze in the 145 lbs. weight class. An early takedown from Myadze earned two points, and also put him in position to earn a pin. After a tremendous effort from DeZiel to escape, Myadze secured the pin at 1:30 to earn East six points.
It was nearly the exact same situation in the 152 lbs. weight class. Sun Prairie's Braeden Gunderson was up against East's Muhammad Saneh. Again, Saneh earned two early points for a takedown and got right to work on looking for a pin. He found it at the 1:47 mark, bringing home six more points for the Purgolders.
Mason Borgardt did his best to turn the tides in the 160 lbs. weight class against East's Braxton Weisenburger. This was another absolute battle, going the distance with both athletes displaying their talents.
After 30 seconds of feeling each other out, Borgardt made the first move. He secured a big takedown to take an early 2-0 lead. Weisenburger would later escape from that hold, bringing in a point as the first period came to a close.
In the second, Weisenburger took his first lead of the match with a reversal, going up 3-2. 3-2 quickly turned to 3-3 as Borgardt managed to escape the hold. Weisenburger would reclaim the lead with a takedown with time running out in the period. Borgardt put on a frantic push, nearly securing a takedown, but was stopped by the buzzer, trailing 5-3 heading into the deciding period.
Weisenburger was whistled for locking his hands early in the third period, bringing the score to 5-4. Soon after, an escape from Borgardt tied things at five each. A subsequent takedown gave Borgardt a 7-5 lead.
In the end, Weisenburger made some great moves down the stretch. He managed five points in a short amount of time to claim a 10-7 decision in one of the better matches of the night, earning three points for East.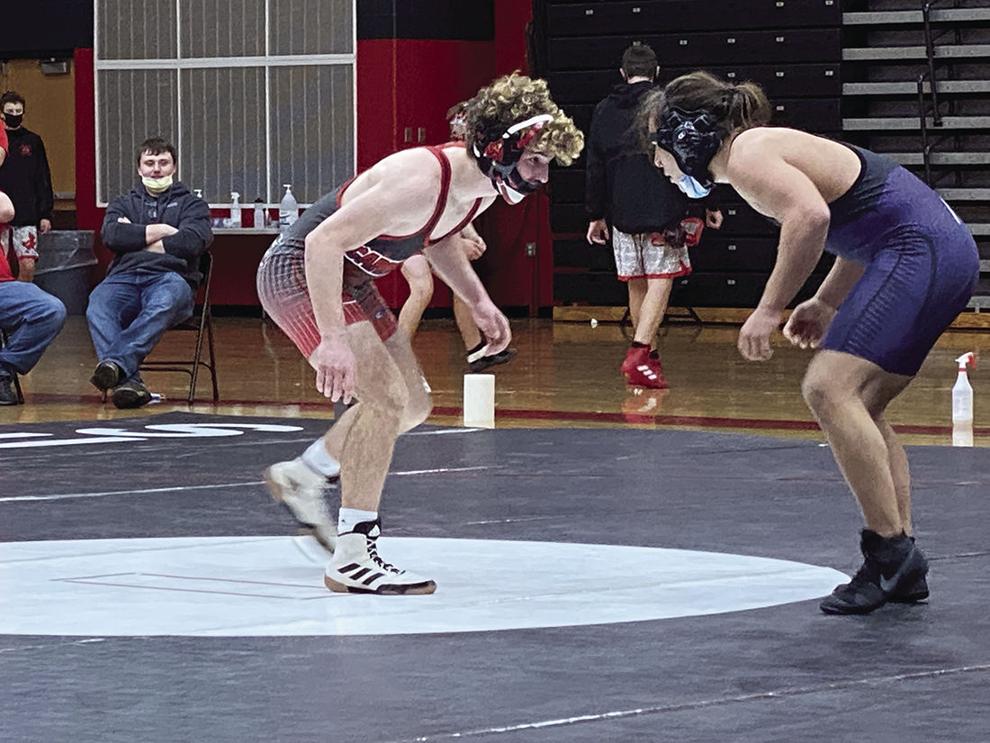 Sun Prairie freshman Corbin Smith made sure Cardinals fans went home happy by winning the final match of the night. In his first taste of varsity action, Smith was impressive.
Facing off against East's Justin Russell in the 170 lbs. weight class, Smith showed great poise to fend off his opponent. After a scoreless first period, Smith struck first with an escape to assume a 1-0 lead. An illegal move from Russell made it a 2-0 advantage heading into the third period.
There, Smith locked his hands early in the period to make it a 2-1 match with a lot of time left on the clock. Smith battled hard, staying out of compromising positions and remaining strong to hold onto that exact score. He earned three points for Sun Prairie on the 2-1 decision, a gutsy performance.
"What a huge win for Corbin," Nelson said. "He did a great job of riding the kid out there at the end of the third period. I'm very proud of him. That's a huge win for us."
Despite an overall team loss, there were plenty of promising performances for the Cardinals to be excited about as the season progresses. Next up, Sun Prairie will compete in the Bluejay Challenge at Merrill High School on Saturday, Jan. 8. The Cardinals will then have a week off before competing in a tournament at DeForest High School on Saturday, Jan. 15.
In the newest list of rankings from Wisconsin Wrestling, three Sun Prairie athletes were mentioned. Sophomore Christopher Anderson continues to impress in the 106 lbs. weight class. He's up two spots this week, from No. 6 in the state to No. 4.
On top of Anderson, two wrestlers were named honorable mentions in their respective weight class. Freshman Brennan Hoffman is an honorable mention in the 113 lbs. weight class after being ranked No. 11 last week. After not being ranked last week, sophomore Parker Olson received the nod for honorable mention this week.