VERONA — Sun Prairie nearly let a 21-point lead evaporate before holding off Verona 21-19 to remain undefeated during the alternate fall football season.
The Cardinals (4-0) scored all of their points in the first half, then came up with two huge defensive plays in the fourth quarter to defeat the Wildcats for the second time this spring season in a game played at the brand new Verona High School Field.
"We let them hang around a little bit tonight but we knew they'd fight us," said Sun Prairie head coach Brian Kaminski. "They're well coached and we knew they would fight until the end."
The first big defensive play came following a Wildcat touchdown. After junior tailback Kyle Krantz took an inside counter 53 yards to the house, Verona was within two points and in need of a two-point conversion to tie the game at 21. But Sun Prairie senior Kamron Gothard broke up Mason Fink's intended pass to Cole Jannusch leaving the score at 21-19 with 4 minutes, 44 seconds left.
Sun Prairie's ensuing drive ended with an Owen Konopacki punt, giving Verona the ball at its own 22-yard line with 2:24 remaining. But on the third play junior defensive end Isaac Hamm hit Fink forcing a fumble which Gothard recovered, sealing the game and the Cardinals' fourth win.
"We put our defense in some tough spots but they were able to close the door in the end," Kaminski said.
Sun Prairie drove 80 yards in eight plays on the game's first possession, with senior quarterback Brady Stevens calling his own number on a 1-yard quarterback sneak. A 56-yard Stevens-to-Gothard pass set up the score.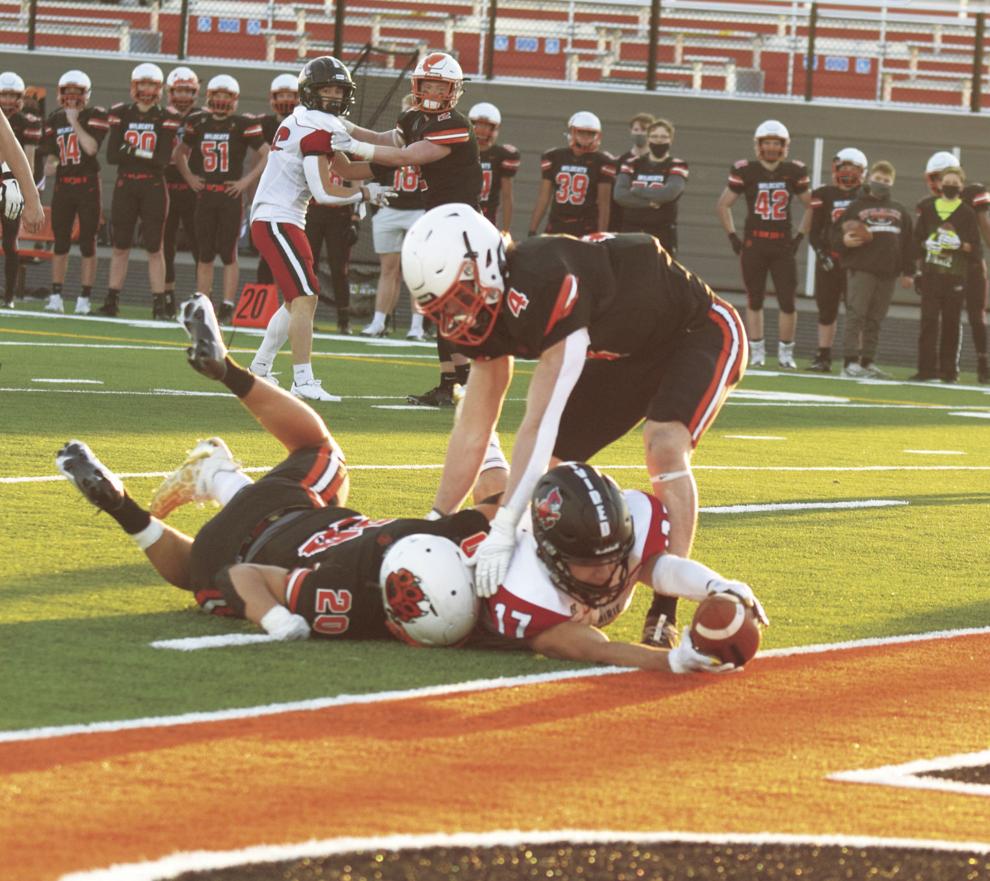 Stevens and sophomore Jerry Kaminski had their most productive night thus far. The quarterback duo combined for 261 yards: Stevens was 7-for-12 for 117 yards, while Kaminski completed 9-of-13 for 144 yards including a 4-yard TD throw to senior Payton Jenkins on the first play of the second quarter which gave Sun Prairie a 14-0 lead.
Kaminski added a 9-yard scoring run and with 7:09 remaining in the first half the Cardinals seemed in control up 21-0.
Meanwhile, Verona took advantage of two Sun Prairie mistakes to score its first two touchdowns. The first was N.J. Elias' 65-yard pick-six of Stevens with 3:22 left in the first half.
Then late in the third quarter Sun Prairie muffed a punt which Verona recovered at the 4-yard line, and two plays later University of Wisconsin commit Jackson Acker hit paydirt. However, the Wildcats missed the extra point leaving the score at 21-13.
"Our defense only gave up six, they played well," Kaminski said.
Acker finished with 102 yards on 22 carries.
"The last time we played I think he only had about 10 carriers and tonight he had a whole lot more; he's a special player and it's tough to contain him. I was happy we didn't allow him to break the big one tonight," Kaminski said.
Offensively, junior Addison Ostrenga had his best career night receiving catching six passes for 131 yards, while sophomore running back Jayallen Dayne ran for a career-best 77 yards on 13 carries.
"Kolton (Walters) had a bit of a shoulder problem and Jayallen stepped up, we'll see next week who has the hot hand," said Kaminski.
Ostrenga and senior linebackers Drew Hamilton and Mekhi Gullens all had eight tackles to lead the defense, which limited Verona to just 18 yards passing
Sun Prairie will look to go 5-0 when it travels to Beloit Memorial next Friday.
"Our goal's always to win every game, that doesn't change whether we play five or whether we play six or however many games; we do what we can to put these kids in the right spot and then watch them respond," said Kaminski.
SUN PRAIRIE 21, VERONA 19
Sun Prairie 7 14 0 0 — 21
Sun Prairie — Stevens 1 run (Konopacki kick).
Sun Prairie — Jenkins 4 pass from Kaminski (Konopacki kick).
Sun Prairie — Kaminski 9 run (Konopacki kick).
Verona — Elias 65 interception return (Jones kick).
Verona — Acker 4 run (kick failed).
Verona — Krantz 53 run (pass failed).
First Downs — SP 19, V 11. Rushing (Att.-Yds.) — 26-109, 35-190. Passing Yards — SP 261, V 18. Passes (Comp.-Att.-Int.) — SP 16-25-1, V 5-12-0. Fumbles-lost — SP 1-1, V 1-1. Penalties — SP 7-77, V 7-37.
Rushing: SP: Dayne 13-77; V: Acker 22-102.
Passing: SP: Kaminski 9-13-0, 144; Stevens 7-12-1, 117; V: Fink 5-12-0, 18.
Receiving: SP: Ostrenga 6-131; V: Krantz 3-15.