It's been the trademark of the NCAA basketball tournament for years. But in Isaac Hamm's case, it relates to his athletic and academic future.
The Sun Prairie High School standout football player recently announced on Twitter the final four schools he has chosen during the junior defensive end's highly anticipated recruitment.
And Hamm's Final Four are (enter drumroll) ... Notre Dame, Ohio State, Penn State and the University of Wisconsin.
"It's mainly based on the schools that I think have the best tradition, the best culture, the best chance of producing me to the NFL, and that I have the best relationship with," said Hamm, who also had offers from Indiana, Iowa, Minnesota, Nebraska and Purdue. "I thought it would be best for myself as well as other schools to say, 'Hey, thanks for offering, but I'm not going to waste my time or I'm not going to waste yours.'"
Still in the middle of a pandemic, Hamm has not had an opportunity to visit any of the aforementioned schools. He does, however, have visits to the four schools set up in 2021.
Hamm is the No. 1 rated strong side defensive end in Wisconsin, according to 247Sports.com, and is the fourth overall player in the class of 2022. He's also ranked 11th nationally at his position.
When Hamm entered high school he was a skilled 6-foot-3 weighing 175 pounds with plans of playing running back. But he continued to grow ... and grow ... and grow, to where he now stands 6-6 weighing nearly 280. That growth spurt all but forced the hand of the Sun Prairie coaching staff, to move Hamm to the interior line.
And to say he was reluctant at first to make the move would be an understatement.
"Last year I told Coach (Tim) Bass I wanted to play linebacker. He said, "Isaac, trust me, I want you at D-line.' I fought him for it and I said, 'No, I'm not playing there.'"
"He still thought he was a linebacker," said Bass, the Cardinals' defensive coordinator and linebackers coach. "We had to first make sure he could play defensive line and he loved it. He's a very gifted athlete, as gifted as we've had, and has a great natural sense of football."
Hamm responded to his new position quite well during his sophomore season, registering 37 tackles including 21 solo stops, while sharing the team lead with sophomore linebacker Addison Ostrenga in both tackles for a loss (14) and quarterback sacks (4).
Despite missing three games with an injury, Hamm was named a first-team defensive end in the Big Eight Conference.
"Coach Bass said, 'I told you so.' That's how it all started," Hamm stated.
Bass made comparisons of Hamm to former Cardinal defensive standouts Maven Kratche, a 2019 SPHS graduate now playing at Minnesota State-Mankato, and 2018 grad Josh Dinga, now a junior at Illinois State.
"Mavin and Isaac worked out through the pandemic and have formed a pretty good friendship," said Bass.
"He just kept growing and growing," Sun Prairie head coach Brian Kaminski said. "All of his life he played a skill position, but he just kept getting taller; you don't see many running backs that are 6-5, so last year we decided to put his hand down — it was the first time he ever played defensive or offensive line — and he didn't miss a beat.
"His athleticism showed, he's as quick off the ball as anybody we've ever had."
Kaminski says Hamm will play offensive line when the spring season comes around, and may get a chance to show off some of his athleticism as well.
"We might even put him out at receiver down by the goal line like Gronk (Tampa Bay Buccaneer Rob Gronkowski) and be a big tight end down there who can go up and catch the ball," Kaminski said. "Once we get back on the field in the spring he's going to be able to show people what he can do."
During much of the offseason, which has been extended due to COVID-19 and Sun Prairie and the Big Eight Conference's decision to move fall athletics to the spring, Hamm has been a fixture in the weight room. In fact, you could call him a weight room rat (much like a basketball player is called a gym rat). Over the summer, he was involved in a lifting challenge with University of Wisconsin recruit Braelon Allen.
Allen's name may be familiar to Sun Prairie football fans. The Fond du Lac safety/running back faced off against the Cardinals in both the 2018 and 2019 WIAA Division 1 playoffs.
"We became friends after we played (Fond du Lac) last year," said Hamm about the 34-30 Level 2 playoff win by the Cardinals played in the snow and mud. "(Over the summer) we had a bench press battle and two days before it, I tore my labrum so I was supposed to be resting; he beat me by two reps," said Hamm, who bench pressed 225 pounds 28 times while Allen put up 30. "If I was healthy, it would have been different."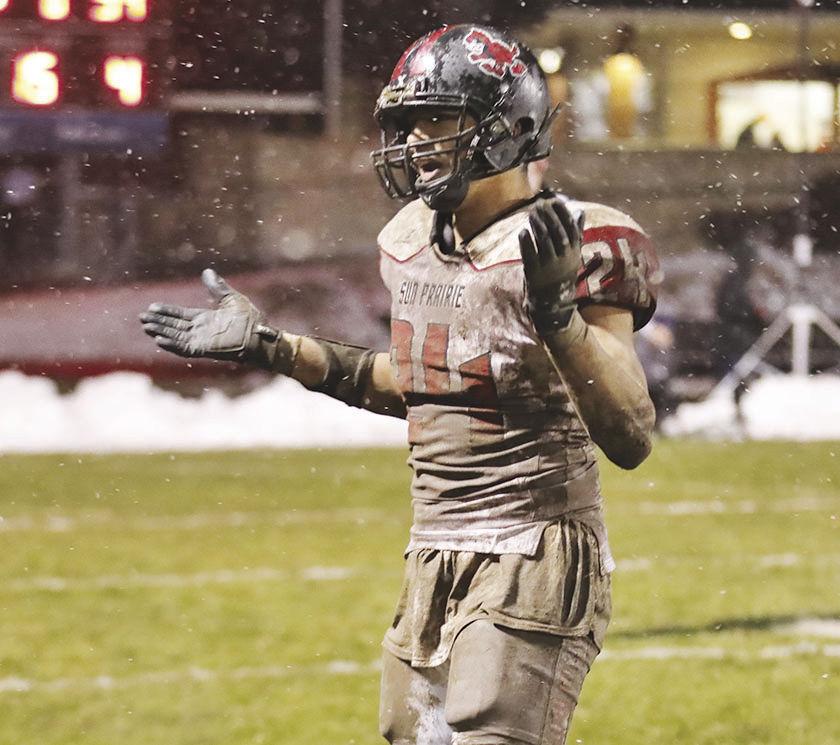 As mentioned, Sun Prairie elected to have an alternate fall season by moving sports to the spring, which have Hamm and all of his teammates chomping at the bit to just get out and play.
"I'm just praying that we do get to play a spring season, if we do that's going to be huge for me. Regardless of individual success, I think we're going to easily have one of the best teams in the state next year," Hamm said.
Along with Hamm the SP defensive includes another big player, 6-4, 200-pound linebacker Addison Ostrenga, as well as returning All-Big Eight selections Mekhi Gullens and Peyton Jenkins.
"There's going to be a whole lot of dudes going for that ball next year, so I don't see how teams can even begin to plan for our defense? It's going to be crazy, but I just want to get back out there and ball with my guys," said Hamm.
Not only returning to the game, but playing at the newly renovated Bank of Sun Prairie Stadium at Ashley Field will be special.
"We've always had a great tradition with 'The Pit.' While it may not be a full stadium during the spring with some restrictions still in place, if things get back to normal by my senior year and we have that thing packed I think it's going to be an electric environment," Hamm said with enthusiasm. "I just can't wait."
From being a running back to now a top-tier defensive lineman, Hamm's offers have been rolling in. Not only is he the top DE in Wisconsin's Class of '22, but he's the fourth-ranked player overall behind only Whitefish Bay OT Joe Brunner, Fond du Lac St. Mary's Springs OT Billy Schrauth and St. Croix Central OG Carson Hinzman.
"Right after the Fond du Lac game I talked with (Braelon) Allen who was a 4-star recruit and I did not have any offers. He said I had potential, and it was just after a little while that I got some stars," said Hamm, ranked 11th in the country at his position.
"Right before COVID hit he started to get some offers, once you kind of get that first one a bunch of other schools follow," said Kaminski. "It's been great for him."
Kaminski added: "It's always fun to have a kid play at Wisconsin," said Kaminski, who has produced two current Badgers in linebacker Marty Strey and wide receiver Cooper Nelson. "He's going to find out what's best for him. We always tell our kids it's got to be your decision. Your family can have their input, but ultimately you're the one that's going to go there and put in your four or five years."
While Hamm honed in on four schools, he won't make his final decision until at least his senior season, if not after.
"First and foremost I'm a high school football player right now, so I just want to get out there and enjoy some high school football before I make that decision," said Hamm. "I'm going to let the spring and fall play out."