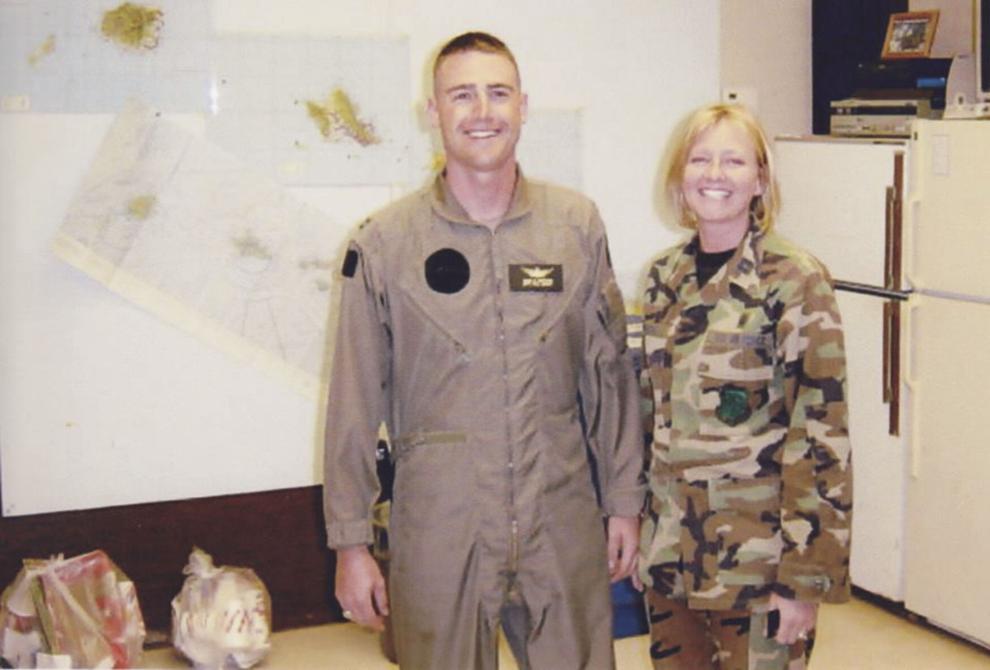 A Town of Medina couple knows the sacrifices of being in active duty firsthand, but also finding love along the way.
Max Brosig, originally from Pound, north of Green Bay, joined the R.O.T.C. at St. Norbert College in De Pere. Upon graduation in 1994, Max went into active duty in flight school at Fort Rucker in Alabama. After receiving a bachelor's in nursing, his wife Cindy, who is originally from Milwaukee, served as a nurse in the Army and Air Force at various times for a total of about 8.5 years.
Max went to Panama after completing Army flight school.
Cindy commissioned in 1995 and became a nurse in the Air Force. She went to officer training school in Montgomery, Alabama, and was stationed for two years at Lackland Air Force Base in San Antonio, Texas. Then she went to Panama.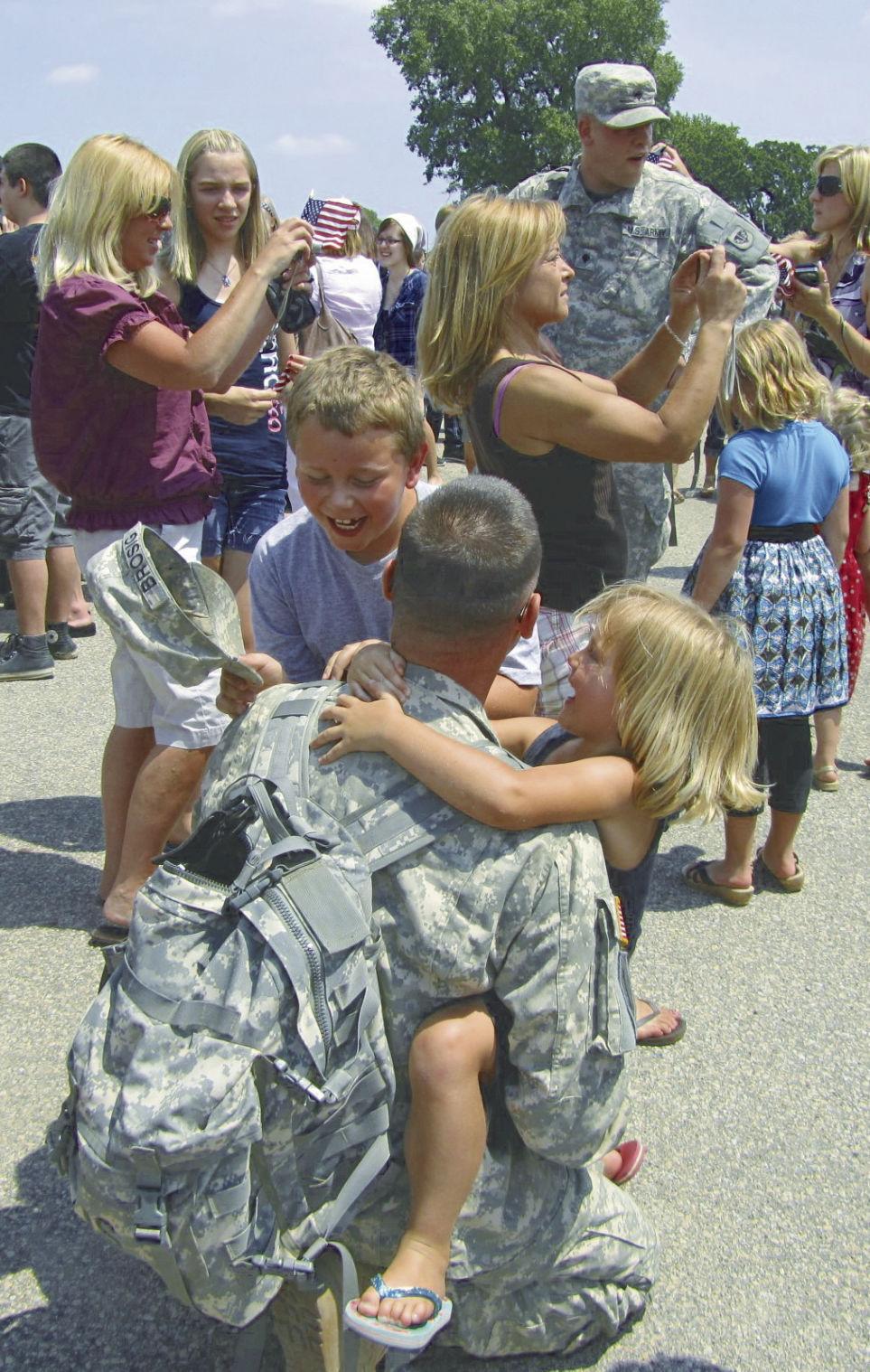 "That's where I met Max. He was Army; I was Air Force. So, I guess we had that in the back of our minds that our relationship might be challenging being that it's two separate services," Cindy said.
Max and Cindy dated for a year in Panama. But when they started falling in love, Max and Cindy had to go in separate directions. While they were there, Panamanians took back the canal zone in 1999, resulting in Cindy being assigned to Landstuhl Regional Medical Center in Germany and Max being assigned to Arizona.
Even apart, their love blossomed, and they continued dating.
"It was six months and we got engaged," Max added.
Shortly after, Max and Cindy got married.
"We basically showed up for our wedding. Our whole family planned it," Cindy said. "Then, we went back to our bases."
After they were married, Max and Cindy were apart for 14 months right after the wedding. They saw each other a few times, but not frequently.
Max was eventually stationed in Hawaii for three years. After his first year, Cindy was deployed there for two years. She also served in Japan for part of that time, and that ended her service time.
Max returned to Wisconsin as well.
"I left about six months early, and then she finally got out," Max said. "I think all told, between deployments and all that, we had about five years apart."
The sacrifices continued, but they made it work.
"It's tough. When you talk about when you find that person, that's what makes it work," Max said. "I think it was also fortunate that Cindy was in the military as well so we both understood the military aspects of it."
Max said the deployments are the easy part.
"It's the people that have to stay home and do everything – that's the tough part," Max said.
"I think there was a big transition for me because then, I was out of the military and now, I'm a family member. I was getting ready for our first son, Jake, and no job. It was a lonely transition in a lot of ways because Max was working and getting ready. Max wasn't deployed that first year right away, but I was a single parent for several years. So, I kind of understand the military spouse aspect of things and trying to find a job that would accommodate the lifestyle because of trying to find childcare and you're a single parent in a flash."
Deployments can be handed out quickly.
"It was interesting that when I was leaving Hawaii and Cindy was pregnant with Jake, the unit in Wisconsin told me to pack for Iraq in 2003. So, I'm like, 'Holy cripe.' It ended up changing because the initial invasion was very quick, but I left anyway to Fort Rucker for an instructor course and eventually got here in November."
The following year, Max was deployed to Egypt for about three months.
"With the military, especially with aviation, it's very short notice. Then when you're flying during the week, you'll have a mission for the governor or fires (or) floods, so you're at the beck and call, and your family just has to put their relationship with you on hold."
Following the deployment to Egypt, Max was given 30 day notice that he was being sent to Kosovo for 16 months. Max had the chance to return home, which gave him a chance to be with Cindy as they had their daughter, Ruth. But even then, Max was home for four days and then left for 10 months. He eventually returned for two weeks, but then had to leave for more than six weeks to finish his tour.
"It's tough on the family and it's tough on the servicemember," Max said.
Before that deployment was over, Max's unit was told it would get the newest Black Hawk helicopter, so it was presumed they'd be deployed again.
Max is now a member of the Wisconsin National Guard in Madison. Cindy started a business in a small building on their property for military families and offering them support. Cindy and Max help run it.
"So, we volunteer our time to invite units and mostly family members to what are called yellow ribbon events. We open it up to units for private parties because a lot of times it's not advertised. We have to keep it very secretive for security reasons," Cindy said.
Yellow ribbons are for support to soldiers and to give awareness to prisoners of war or those who were missing in action.
In her time as a nurse, Cindy witnessed the challenges and struggles military family members had.
"It's a nice way to continue to do something for military families. Being a military family member, that changed my perspective," Cindy said.
Max and Cindy would not change their service despite the sacrifices.
"I think despite all that, I enjoyed it. Why I signed up in the first place was I wanted to give back to our country. I think freedom is not free for all. When you are deployed or you go over to places and see how other countries are unfortunately trying to get there, it makes you really appreciative of the freedoms that we have," Cindy said.
Max said thank-yous are not necessary.
"We volunteered to do it. We have gotten phenomenal experiences out of it. Heck, that's how we got each other," Max said. "Just be a good American; be a good person to your fellow man."