Eight Waterloo wrestlers went undefeated as part of a quadrangular sweep on Jan. 7.
Fernando Carillo (106 pounds), Jonathan Aguero (126/132), Juan Alonso (126/132), Kyle Fugate (152), Francisco Moreno (195), Max Besl (220) and heavyweight Gavin Wright all finished with perfect 3-0 records as the Pirates posted convincing wins over Dodgeland, 61-9, Johnson Creek, 48-22, and Orfordville Parkview, 64-15.
"Most of the teams we faced weren't able to quite have full teams so we had a lot of forfeits, but the matches we did get were against some quality opponents and state qualifiers," said Pirates head coach Thurston Schuster. "I felt we really wrestled well against some of those kids, I was pretty impressed on how we did against the ranked kids."
Carillo had two pins at 106. After receiving a forfeit against Dodgeland, the freshman pinned Johnson Creek's Connor Gerstner in 1 minute, 28 seconds, before sticking Parkview's Alexiana Garcia-Martin in 3:00.
"Fernando's been a bright spot at the start of our lower weights, he's done a really nice job of transitioning from middle school to high school wrestling," said Schuster. "Hopefully he can keep it going in the latter part of the season."
Aguero earned a pair of major decisions, 11-3 over Dodgeland's Braxton Kohn and 10-0 over Parkview's Camron Duncan while wrestling at 126.
Alonso had two impressive pins at 132, pinning Dodgeland's Garrett Clark in 3:09, before sticking Parkview's Jean-Luc Cramer in 43 seconds later in the night.
"They're kind of our 1-2 punch going back-to-back. Neither of them have really gotten a lot of matches because of forfeits, but they both were able to come out and get a couple of victories in matches; they showed us why they're senior leaders," said Schuster of Aguero and Alonso.
At 285, Wright earned a 6-1 decision over Louie White of Dodgeland, then pinned Creek's Kevin Morales in 3:56.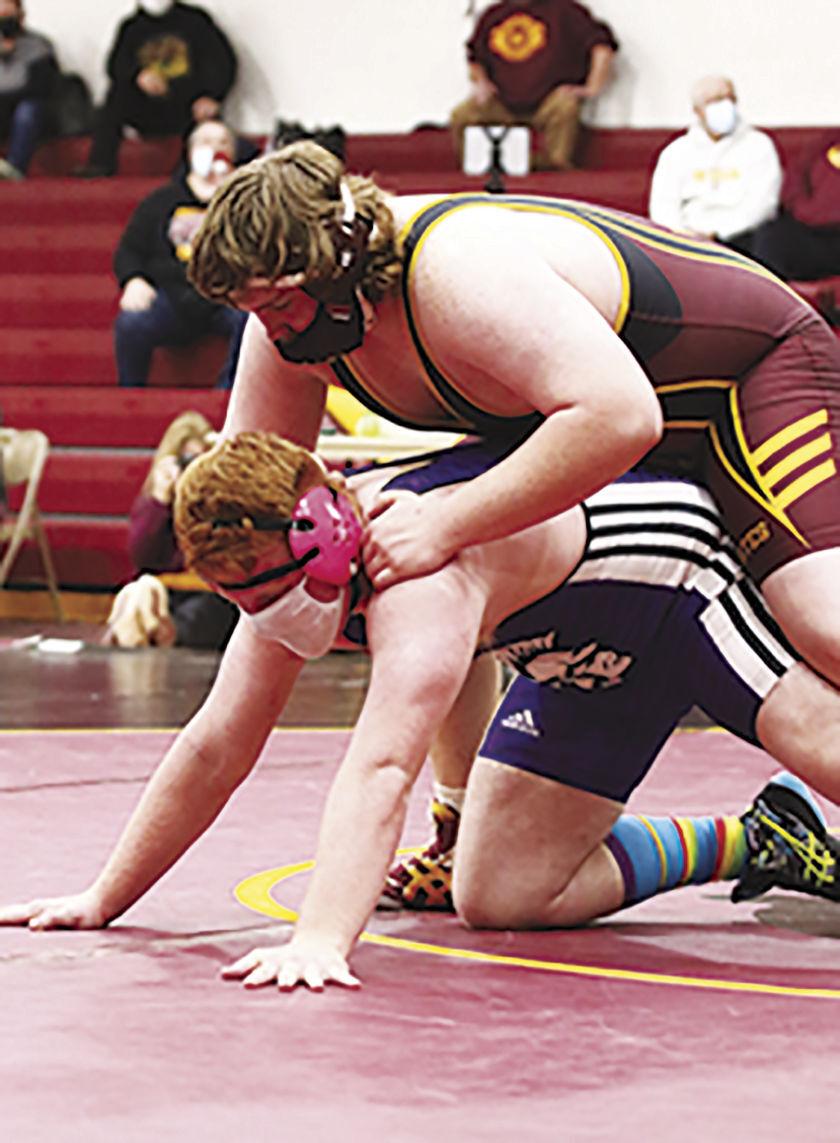 "He's really putting together a nice season," said Schuster.
Jacob Soter (138) and Trevor Firari (152) each finished 2-1 for the Pirates.
Up Next
Waterloo will wrestle at Lakeside Lutheran Friday along with Lake Mills and Sugar River.
"Essentially we're wrestling Lakeside Lutheran for the conference title," said Schuster.
Wrestling begins at 6 p.m. at LLHS.
106 — Fernando Carillo (W) received forfeit
120 — Dylan Kohn (D) received forfeit
126 — Jonathan Aguero (W) major dec. Braxton Kohn (D) 11-3
132 — Juan Alonso (W) pinned Garrett Clark (D) at 3:09
138 — Jacob Soter (W) received forfeit
145 — Trevor Firari (W) pinned Joey Stocks (D) at 0:42
152— Kyle Fugate (W) received forfeit
160 — Max Schneider (W) received forfeit
170 — Dylan Bostwick (W) received forfeit
182 — Andrew Benzing (D) dec. Reynol Limon (W) 8-3
195 — Francisco Moreno (W) received forfeit
220 — Max Besl (W) received forfeit
285 — Gavin Wright (W) dec. Louie White (D) 6-1
WATERLOO 48, JOHNSON CREEK 22
106 — Fernando Carillo (W) pinned Connor Gerstner (JC) at 1:28
113 — Matthew Gruss (JC) received forfeit
126 — Juan Alonso (W) received forfeit
132 — Jonathan Aguero (W) received forfeit
138 — Taylor Joseph (JC) dec. Jacob Soter (W) 7-5
145 — Kyle Fugate (W) pinned Caden Heth (JC) at 2:50
152 — Trevor Firari (W) pinned Dom Rabee (JC) at 3:06
160 — Dylan Gruss (JC) major dec. Max Schneider (W) 11-0
170 — Howie Olszewski (JC) pinned Dylan Bostwick (W) at 0:18
182 — Leo Sabala (JC) dec. Reynol Limon (W) 5-3
195 — Francisco Moreno (W) received forfeit
220 — Max Besl (W) received forfeit
285 — Gavin Wright (W) pinned Kevin Morales (JC) at 3:56
106 — Fernando Carillo (W) pinned Alexiana Garcia-Martin (P) at 3:00
113 — Ian Suer (P) received forfeit
120 — Evan Suer (P) received forfeit
126 — Jonathan Aguero (W) major dec. Camron Duncan (P) 10-0
132 — Juan Alonso (W) pinned Jean-Luc Cramer (P) at 0:43
138 — Jacob Soter (W) pinned Jaden Anderson (P) at 0:41
145 — Kyle Fugate (W) received forfeit
152 — Korben Brown (P) dec. Trevor Firari (W) SV-1 7-5
160 — Max Schneider (W) received forfeit
170 — Dylan Bostwick (W) received forfeit
182 — Reynol Limon (W) received forfeit
195 — Francisco Moreno (W) received forfeit
220 — Max Besl (W) received forfeit
285 — Gavin Wright (W) received forfeit