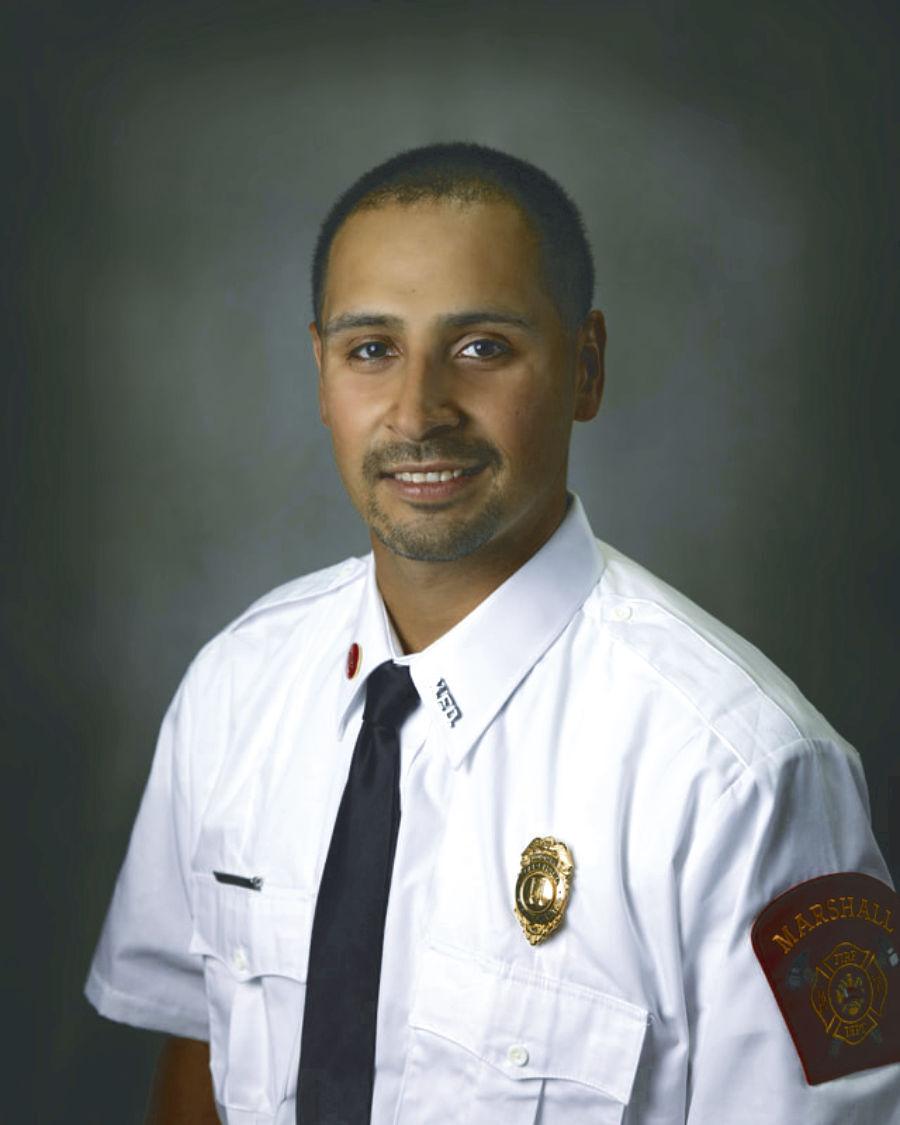 The Marshall Fire Department was dealt a blow Dec. 30 when Captain Marcos Dominguez was killed in a Columbia County accident.
Fire Chief Blair Pearce is remembering Dominguez's dedication to the community and outgoing personality that made it "extremely easy" to work with him.
"He was always professional. He always knew what was going on. He knew how to approach everyone. He always stepped up without being asked," Pearce said. "He was always respectful and always professional. You never saw him angry or frustrated. He just had everything under control."
"Any other chief would want Marcos on their fire department," Pearce added. "He's just that good."
Dominguez had been with the department for about 13 years.
"We always call this place a family, but he was definitely the big brother of this family, even with being so young," Pearce continued. "He had so many skills as a firefighter or as a guy just around. He's a good guy. There's no other way to put it."
Prior to becoming captain, Dominguez was a lieutenant for the department. He served as a public education officer for the department for about seven years and led fire prevention education efforts in the community.
"He had a great future ahead of him as a volunteer firefighter," Pearce said.
Pearce referred to Dominguez's smile as welcoming, and said he had a way of joking respectfully with everyone.
"He always could get someone to smile," Pearce said.
That sentiment was shared by fellow Marshall firefighter Raymond Godina, Dominguez's half-brother.
"His sense of humor was the best. He was one of the guys you want to be around," Godina said.
Godina said Dominguez cared for his community, was involved in youth sports, and was a family man.
"He was always a good brother. He was there for anyone," Godina said. "He loved his kids. He was always there for his family."
Shortly after Dominguez's death was announced by the department, efforts were made to help his family.
The fire department has teamed up with Farmers & Merchants State Bank to set up an account there to support the Dominguez family. Donations can be brought to the bank that has branches at 218 W. Main Street in Marshall or 210 W. Madison Street in Waterloo. Donations may also be mailed to the Marshall Farmers & Merchants State Bank with "c/o Dominguez Family Fund" to PO Box 660, Marshall WI, 53559.
"It's helping me; it's helping my sister in law," Godina said, adding that his brother is "in a better place now but we are so grateful for the community and the people in it.
"All the love they are giving is great. I can't explain how grateful I am. Departments of the area are reaching out to me. I have been reached out to by departments I don't even know about. It has helped me grieve my brother's death," Godina added.
Godina called Dominguez a hero.
"I personally want them to know that Marcos is a hero to me, my sister in law, my parents, his kids and others. He's a legend," Godina said. "I want everyone to know he is looking down on everyone who is supporting us. I want everyone to know he is grateful for everything that everyone is doing for his kids and his wife."
Dominguez was killed in an automobile accident in Columbia County Dec. 30 in the town of Hampden on Sanderson Road. According to a preliminary investigation, the vehicle that Dominguez had been driving westbound on Sanderson Road went into a ditch, rolled over and struck a power pole. Dominguez died at the scene. There was a juvenile occupant in the car, who was taken to an area hospital with minor injuries.