CAMBRIDGE — All good things must come to an end, but unfortunately it occurred two games too early.
The remarkable run of the Marshall girls basketball team, a program that won back-to-back state championships in 2018 and 2019 and nearly 100 games over the last four seasons, came to an unceremonious conclusion in a 65-59 double-overtime loss to Lake Mills in the WIAA Division 3 sectional championship game played Saturday in Cambridge.
Lake Mills (23-2), ranked fourth in the Associated Press D3 poll, outscored Marshall (22-4), ranked fifth, 9-3 in the second overtime to escape with the victory and return to the State Girls Basketball Tournament for a second year in a row.
"Brandon (Lake Mills head coach Brandon Siska) and I both feel like our programs are two of the best in the state along with (La Crosse) Aquinas," said Marshall head coach Doug Pickarts. "We both agreed after the game that these two teams deserve to be playing in the state tournament and not in a sectional final game.
"It just stunk that somebody had to lose that game."
It was the second meeting in less than 20 days between the two Capitol Conference and state powerhouses: the Cardinals beat the L-Cats 61-58 on Feb. 2 in Lake Mills.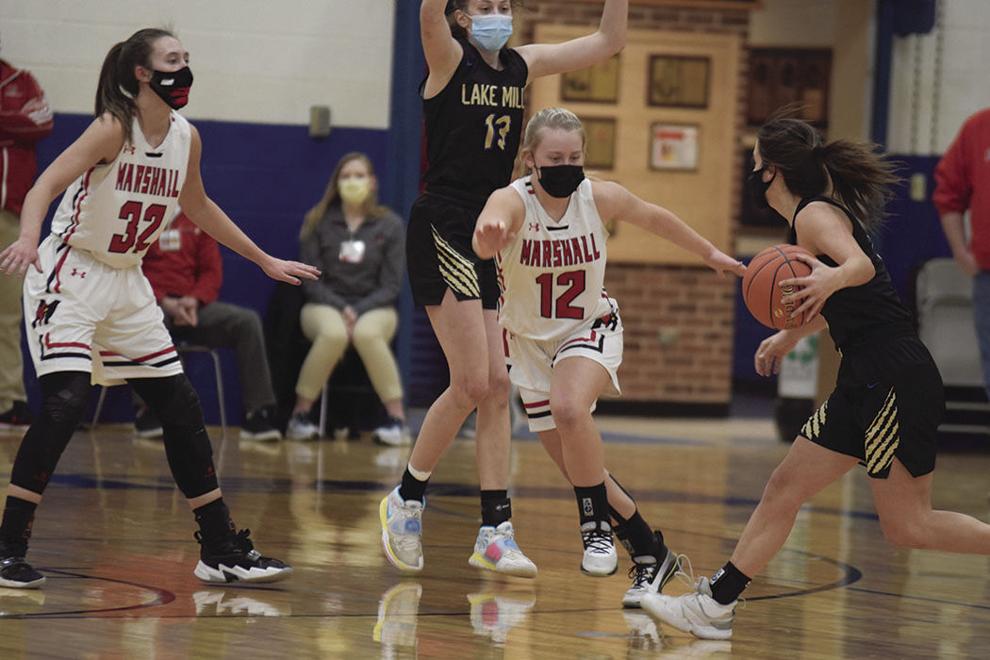 "This was two very good teams going at it. Hats off to Marshall, one of the best teams in the state. For that senior class, two state titles and four straight sectional championships. That's a state championship caliber team we beat," said Siska.
The game was tied at 51 at the end of regulation and at 56 after the first overtime.
Lake Mills took the initial lead in the second OT on Kayla Will's basket, but three free throws — one by Anna Lutz and two by Allie Rateike — gave the Cardinals a 59-58 advantage with 1 minute, 20 seconds to go.
But the L-Cats got to the free throw line in the final 1:01, making 7-of-8 to pull away and punch their program's second-ever ticket to the state tourney.
Lake Mills got off to a fast start taking a 20-9 lead in the game's first 8 ½ minutes. But a 12-4 run to close out the half allowed Marshall to tie the game at 29 at the break.
"I actually thought once we tied it up at half we were in good shape," said Pickarts. "But (Lake Mills) is so talented and they shoot the ball so well from the outside."
Seniors Taylor Roughen and Ava Wollin did most of the damage each making four 3-pointers, both finishing with 14 points. Meanwhile, the L-Cats got a team-high 17 points from senior Vivian Guerrero and another 10 from Will as Lake Mills' balance proved to be a problem for Marshall.
Like they have been the last four years the Cardinals were led by their 1-2 punch of Laura Nickel and Anna Lutz. Nickel, who will play at Northern Illinois University following graduation, scored 28 points to match a career-high, while Lutz, a UW-Milwaukee commit, added 19.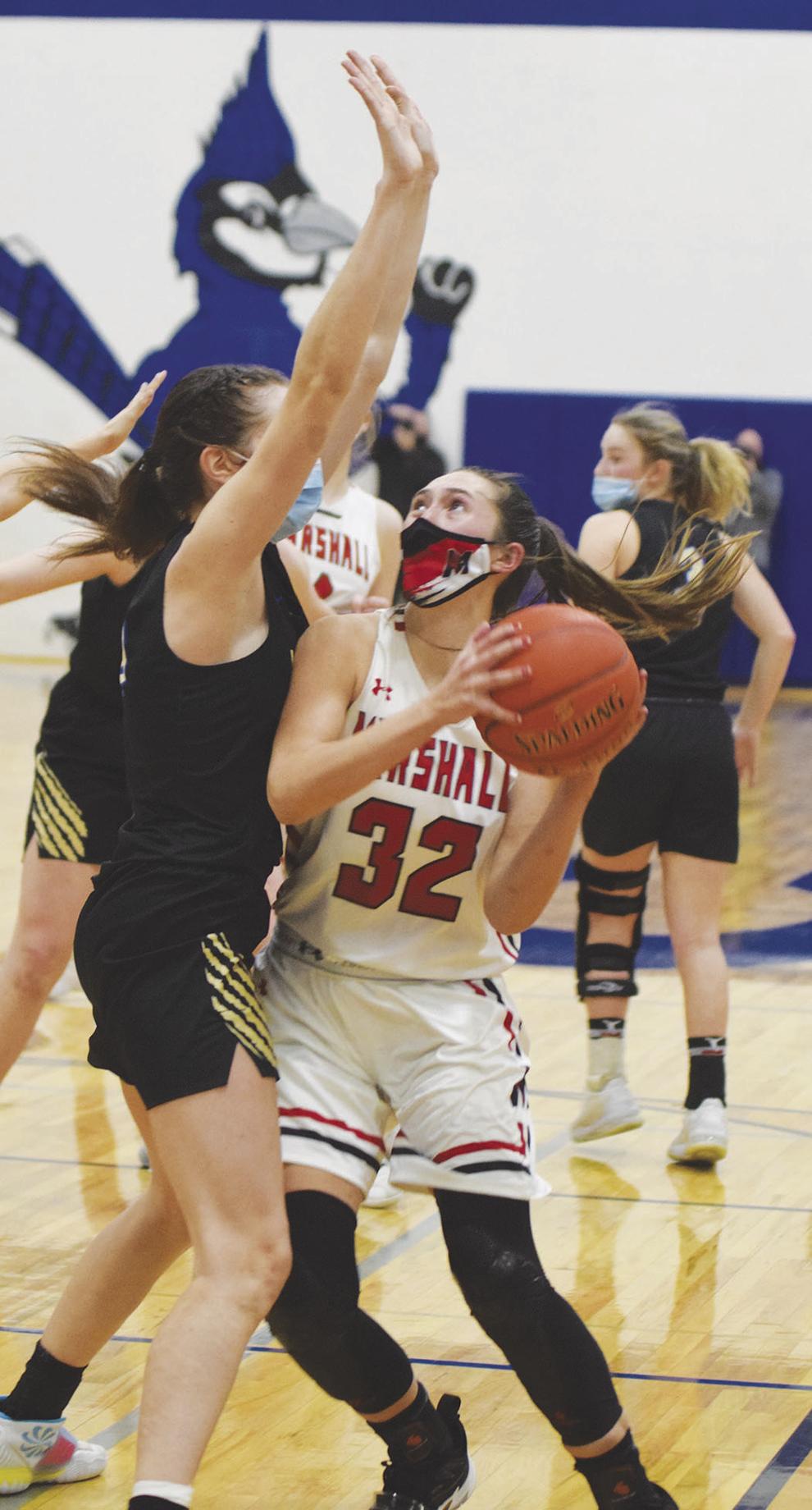 "What else can you say about Laura and Anna, and even Mya (Andrews)? They have done a ton for our program and should be proud," Pickarts said.
Lutz (1,941) and Nickel (1,494) finished their careers as the top two scorers in program history, while along with Andrews, won a remarkable 96 out of 108 games along with four Capitol South Conference championships and the two state titles.
"I just wish we could have given them more, but that's sports," concluded Pickarts.
Lake Mills 29 22 5 9 — 65
Lake Mills (fg ft-fta pts) — Roughen 5 0-0 14, A. Wollin 5 0-2 14, Guerrero 5 7-8 17, Wagner 1 2-2 4, Will 4 2-3 10, Lamke 1 0-0 3, I. Pitta 1 0-1 2, J. Pitta 0 1-2 1. Totals — 22 12-19 65.
Marshall — Lutz 5 7-8 19, Andrews 1 0-0 2, Ward 0 0-2 0, Weisensel 2 0-0 4, Rateike 2 2-2 6, Nickel 11 6-10 28. Totals — 21 15-22 59.
3-point goals — LM 9 (Roughen 4, A. Wollin 4, Lamke 1); M 2 (Lutz 2). Total fouls — LM ; M 18. Fouled out — None.