FALL RIVER
The Marshall football team experienced something it hadn't all season long. A loss.
The second-seeded Cardinals lost their first and only game of the season after suffering a 20-8 defeat to third-seeded New Holstein in the first round of the WIAA Division 4 playoffs played Saturday afternoon in Fall River.
The Cardinals opened the game with an onside kick, however, the Huskies (5-3) recovered. Twelve plays later Michael Volz scored on a 3-yard run for a 7-0 lead.
"We saw on film that their front row guys were deep to begin with and they bailed out before the ball went in the air. Couple that with the fact that Joey Chiuchiolo is an outstanding onside kicker and it made our decision easy," said Marshall head coach Matt Kleinheinz. "We did the same thing again after we scored in the third quarter and successfully recovered."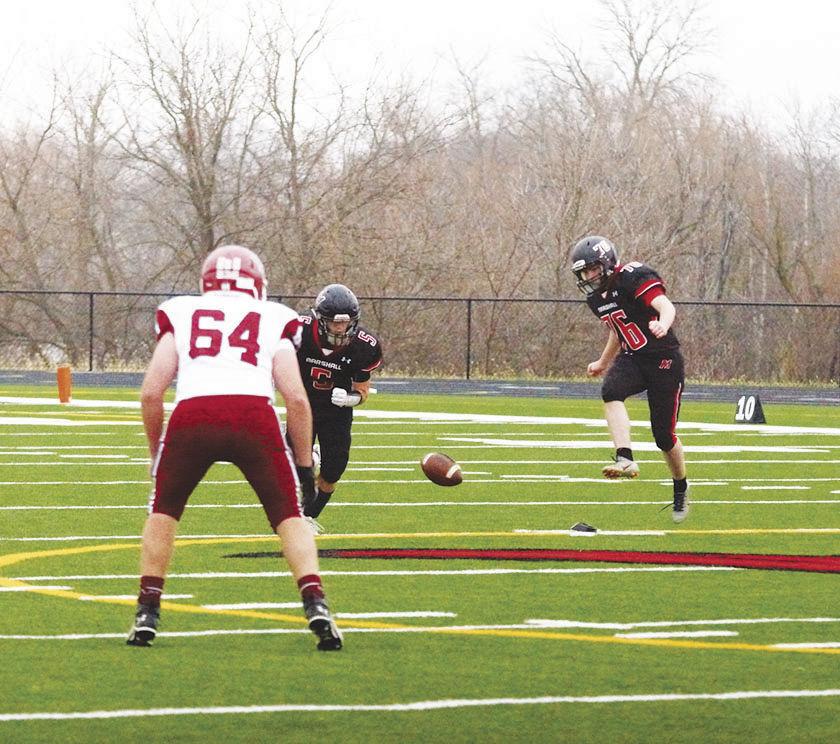 For the first time all season Marshall trailed at halftime. After allowing a touchdown on the game's opening drive, a 7-yard Henry Schnell-to-Adam Casper pass in the second quarter gave the Huskies a 14-0 advantage at the break.
Marshall had two potential scoring drives end on turnovers; the Cardinals turned the ball over four times after committing only two miscues total during the regular season. Junior quarterback Craig Ward threw an interception, before the local team lost a fumble inside New Holstein territory.
"Yeah, they hurt us a lot in this game," Kleinheinz said of the turnovers. "We missed some opportunities, especially in the first half and early fourth quarter; you can't miss opportunities in playoff games and especially not against a quality team like New Holstein. I thought our defense played well enough for us to win. Unfortunately, we couldn't pop a couple of those long scoring plays that we had been accustomed to during the regular season.
"All of the turnovers were in New Holstein territory, so while it didn't really put our defense in a hole, it certainly translated to missed offensive opportunities."
Marshall's defense had allowed just 27 points all season going into the Level 1 playoff game.
"Our defense has been so strong all year that you can't really put them in a hole — they battle their way out of it — we were statistically better in almost every category in this game, except the turnover column which was ultimately our undoing," Kleinheinz said.
The Eastern Suburban Conference champion Cardinals (6-1) cut their deficit to one score when junior Bryce Frank scored on a 3-yard run with 9 minutes, 21 seconds left in the third quarter.
But Schnell provided the dagger scoring on a 41-yard quarterback keeper with 4:58 remaining.
Ward completed 9-of-15 passes for 87 yards, six landing in the arms of Frank for 54 yards.
Frank was the game's leading rusher with 104 yards on 19 carries. He finished the season with 843 yards on the ground while scoring a total of 13 touchdowns.
New Holstein will play at top seed Watertown Luther Prep in Friday's WIAA playoff finale.
"I told the guys after the game that someday in the very near future they are going to look back on this season and realize how lucky they were and how special it was," said Kleinheinz. "In July if I would have said to them that you will go 0-7 but you'll get to play football, I think every kid would have been thrilled just to get the opportunity to play. But these guys went a step further and not only played, but had a truly successful season. I'm just so happy for them, our parents, our coaches, and for all the members of our community and administration that believed in us and supported making this season happen. It really was an incredible accomplishment."
NEW HOLSTEIN 20, MARSHALL 8
New Holstein 7 7 0 6 — 20
New Holstein — Volz 3 run (Azemi kick).
New Holstein — Casper 7 pass from Schnell (Azemi kick).
Marshall — Frank 3 run (Frank run).
New Holstein — Schnell 41 run (run failed).
First Downs — NH 12, M 15. Rushing (Att.-Yds.) — NH 46-208, M 38-145. Passing Yards — NH 7, M 87. Passes (Comp.-Att.-Int.) — NH 1-3-0, M 9-16-2. Fumbles-lost — NH 0-0, M 2-2. Penalties — NH 4-37, M 4-25.
Rushing: NH: Volz 16-71; M: Frank 19-104. Passing: NH: Schnell 1-3-0, 7; M: Ward 9-16-2, 87. Receiving: NH: Casper 1-7; M:Frank 6-54.