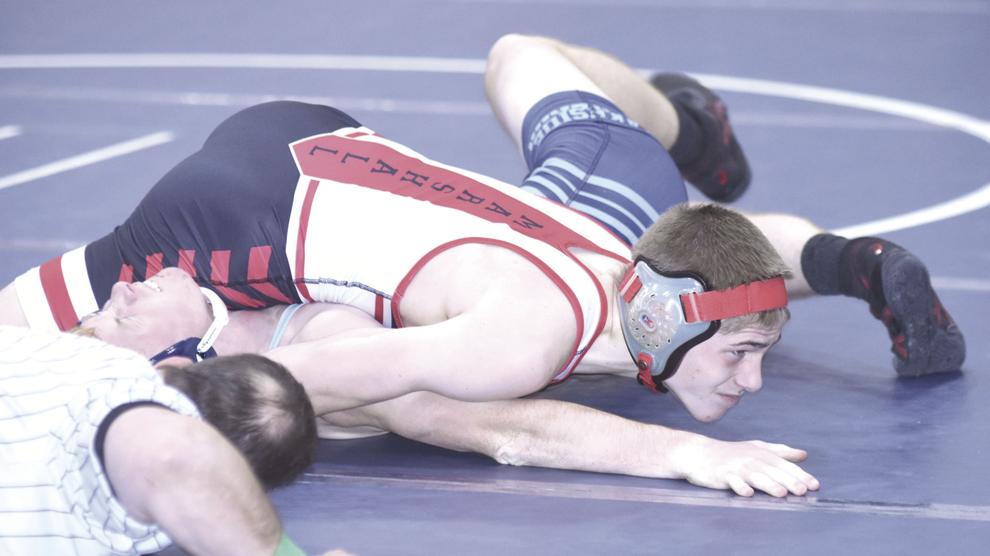 On Saturday, Jan. 8, the Marshall wrestling squad made the trip east to Cedar Grove Belgium High School to compete in the Rocket Scramble. There, the Cardinals put on some solid performances on the mat to build a team score of of 294, landing them in 10th place overall out of 17 competing teams.
Brillion won the event with 637 points, followed by host school Cedar Grove Belgium with 628 and Shiocton in 3rd with 625.
It was a solid day all around for the Cardinals, but the 126 lbs. weight class is where they picked up the most points. There, junior Tyler Petersen put on a show. He climbed all the way to the championship match. After receiving a first round bye, he pinned Alec Malwitz of Oostburg in 1:37, then turned right around and pinned Dylan Bramstedt of Valders in 1:46 in the next round.
He suffered his only fall of the day in the following round, getting pinned in 2:17 by Ostin Blanchard of Campbellsport. He rebounded nicely, however, and worked hard to land a pin in 4:17 against Jake Shaver of Sheboygan Falls. The win earned him 2nd place overall in the bracket and 62 team points for Marshall.
Marshall's next highest finisher was junior Drew Johnson in the 132 lbs. weight class. After a first round bye, Johnson fought hard but couldn't take home the win in a 16-10 decision loss to Sean McConnell of Brillon, dropping him from the championship bracket to the consolation bracket.
From there, Johnson caught fire. He won his next three matches, pinning Gavin Davies of Cedar Grove Belgium in 4:48, pinning Wyatt Wilke of Southern Door in 1:15, and battling to a 4-2 decision win over Lomira's Evan Casper in his final match to claim 5th place. This brought back 47 points for Marshall.
Johnson wasn't the only one to score in the 40s for Marshall. Sophomore Kody Finke took home 4th place in the 138 lbs. weight class to score 43 points for Marshall. After a first round bye, Finke got rolling with a pin in just 52 seconds over Campbellsport's JJ Ksioszk in the following round.
In the championship bracket, Finke put up some tough battles but faced solid competiton. He fell in a 14-3 major decision to Nash Banko of Oostburg, battled in a 11-5 decision loss to Lucas Collado of Sheboygan South, and finished the day by getting pinned by Elliott Tait of Wauwatosa in 1:23. Still, his early success was enough to earn 4th place and bring the points back for the Cardinals.
Finke's older brother, senior Kasey Finke, had a good day on the mat as well. After receiving a first round bye, Finke was ousted from the championship bracket after losing in a 6-0 decision to Oostburg's Levi DeZoute.
Undeterred, Finke carried on. He turned things around in emphatic fashion scoring a pin in just 51 seconds in his next match against Johnny Lee of Sheboygan South. He closed his day with two tough opponents, Brandon Faber of Lomira and Ben Kortens of Shiocton. He was pinned by both, taking home 7th place overall and 34 points for Marshall.
In the 220 lbs. weight class, junior Grant Chadwick took a similar path as Johnson did. His first match dragged out for almost the entirety of the three periods, before he suffered a pin at the hands of Cedar Grove Belgium's Jordan Platner at the 4:48 mark. From there, Chadwick never lost again.
He ripped through the consolation bracket, racking up four pins. He pinned Austyn Neubert of Shiocton in 1:41, Austin Jones of Sheboygan South in 4:19, Jamayne Flom-Pressley of Cambridge in 3:48, and Spencer Gilbertson of Brillion in 3:01. The impressive performance earned him 9th place and brought home 41 points for the Cardinals.
In the 120 lbs. weight class, sophomore Tucker Cobb looked strong in his matches. After receiving a first round bye, he battled but fell in a 13-9 decision loss to Oliver Crum of Wauwatosa.
He wasted no time getting to work in the consolation bracket, though, picking up a pin in 3:52 over Joe Duwell of Sheboygan South. The heartbreaker came in the next match against Garrett Ulness of Valders. With the match tied at seven points each at the end of three periods, the two went into overtime. 38 seconds into it, Ulness landed a takedown to claim a 9-7 sudden victory. In his final match of the day, Cobb accepted a 6-0 decision loss against Spencer Slezewski of Southern Door. Cobb's efforts earned him 7th place and 34 team points for Marshall.
Tucker's brother, Turner, a freshman, put together a solid performance in the 170 lbs. weight class. After a 15-0 tech fall in the first round, Cobb earned two byes in the consolation bracket. A spirited battle in a match with Cambridge's Aiden Sperle resulted in an eventual fall at the 3:06 mark. Undaunted, Cobb picked up his first win of the day by pinning Lomira's Devin Justman in 1:21 to claim 10th place and 33 points for his team.
The Rocket Scramble wasn't Marshall's only competition last week. On Tuesday, Jan. 4, the Cardinals also competed in a triple with Lakeside Lutheran and Oakfield.
The Cardinals were able to secure a 48-21 team victory over Lakeside Lutheran. They were led by pins from Armando Torres (285 lbs.) in 0:57, Tucker Cobb (120 lbs.) in 2:34, Tyler Petersen (126 lbs.) in 1:42, Drew Johnson (132 lbs.) in 0:57, Remington Braun (138 lbs.) in 3:43, Kody Finke (145 lbs.) in 2:00, and Turner Cobb (170 lbs.) in 3:45.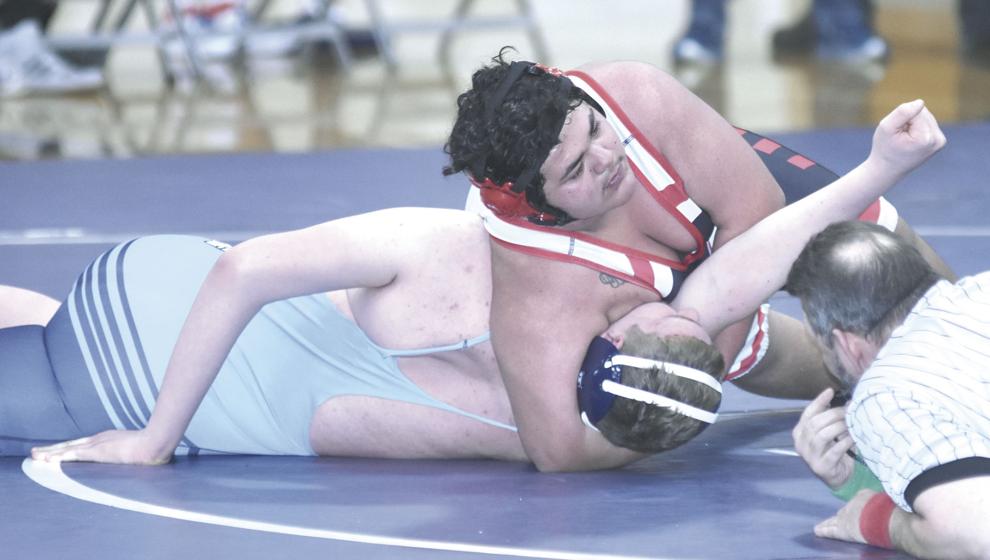 Next up, Marshall will compete in the Capitol — South multi, hosted at their own gym, on Thursday, Jan. 13. Following that, the Cardinals will host a dual with Pardeeville on Tuesday, Jan. 18.