The American Library Association (ALA) recently released a special report, 2021 State of America's Libraries Special Report: COVID-19.
In the report's editor's note from Stephanie Hlywak, the director of the ALA's Communications and Marketing Office, she wrote: "Nothing about 2020 was business as usual in any part of American society, and libraries and their workers, users, and services were all deeply impacted by the pandemic. In reflecting on the year, the only way to tell the stories of America's libraries is through the lens of the challenges and opportunities presented by COVID-19."
Across the United States, as public libraries shut their buildings due to coronavirus, the institutions found ways to continue providing services to patrons. Locally, the Karl Junginger Memorial Library in Waterloo and the Marshall Community Library both temporary closed because of the pandemic. Yet, the directors and staff found solutions to keep materials circulating and programs progressing.
Both community libraries had to physically close March 15, 2020 though Marshall did have some hours set aside March 16, 2020 to allow patrons one last opportunity to pick up materials. However, just because the doors were closed didn't mean the libraries stopped providing services.
KJM Director Kelli Mountford and Marshall Community Library Director Callie Armstrong both saw increases in people using electronic resources.
Mountford said the free Overdrive/Libby, which allows patrons to access electronic versions of books, audiobooks and online magazines, had an overall 17% increase in usage in 2020 when compared to 2019.
"We did see an initial uptick in ebook and audiobook usage, about 25%, during the first two months of shutdown" Armstrong said. "However, numbers went back to being similar to the previous year in June when we reopened."
Additionally, she said the library saw an uptick in the use of subscription databases Ancestry.com and Transparent Languages Online.
Due to the pandemic, patrons were able to access Ancestry.com from their home computers; typically, the service can only be accessed by computers located in the library.
New to the available electronic resources at KJM was media-streaming platform Hoopla. According to Mountford, the 24 member libraries of the Bridges Library Consortium composed of Jefferson and Waukesha counties started offering Hoopla to patrons April 1, 2020 due to COVID-19.
Additionally, the Bridges consortium decided to purchase Helpnow, an online database that helps with homework and offers live tutoring.
Technology didn't just help get materials to patrons; both libraries have offered storytimes with Marshall using Facebook live and KJM opting to use YouTube. Both also used technology to continue to host monthly book clubs.
Since youth programs couldn't be conducted at the library, the staff found a way to send the programs out to children.
"Our youth and adult service librarians both began to create activity/craft bags for different ages to take home to complete. These bags included all supplies that take time to put together and they grew in popularity so trying to provide these to everyone that wants one takes money and staff time, but the library staff love to provide the community with different opportunities to do at home," Mountford said.
Children and adults were able to take part in reading challenges using the Beanstack app and families were invited to stroll along the library grounds for outdoor story walks.
"People have expressed a lot of gratitude for these services and activities," Armstrong added.
Looking ahead, Mountford said KJM will be offering in-person programs and storytimes starting in June. The plan is to hold most of the events outside and some indoor events will require pre-registration.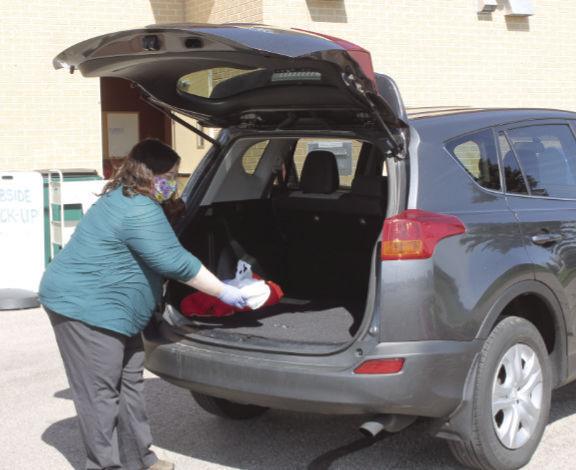 In May 2020, the libraries started to offer contactless curbside pickup; it wasn't too long before the buildings slowly reopened to the public.
"We are one of the only surrounding libraries that were able to open our building for browsing on June 1 and have been open ever since," Mountford said.
There were a few starts and stops as the Marshall Community Library in the spring, but closed in the winter months due to an increased number of local COVID-19 cases. Now, the library is back open for browsing and checkouts.
Both still continue to offer curbside pick-up for those who would prefer to not enter the library.
"We consider ourselves very fortunate to have been able to continue to serve our community during these challenging times," Armstrong said.