When the 32-member Marshall Middle School choir meets for class, their instructor describes it like the opening credits of the Brady Bunch TV show – each face in a square located on the screen.
It's the story of students preparing to rehearse during the coronavirus pandemic and the sight has become a common one across the United States.
Ellen Christensen has not met any of her students in person, yet she's spent plenty of time hearing their voices.
During the first quarter of classes in the Marshall School District, choir teacher Christensen has provided instruction entirely virtually. Nearly five miles east of the village, Charlene Ulichny has masked students sitting six-feet apart in the Waterloo High School fieldhouse as they rehearse.
While athletes have returned to their fields and gyms with precautions in place to practice and compete, so too have the students who perform music found ways to continue to rehearse amid the pandemic.
For Marshall, that means only virtual lessons for now while in Waterloo there are in-person and virtual instruction options.
Christensen, who has taught choir for 23 years and is in her first year at the Marshall, is adapting to providing music instruction on the computer.
"Talk about learning to reinvent the wheel," she said. "Everything is very surreal."
One of the more surreal parts of the experience is being able to see but not hear the students as they sing along at home.
When using GoogleMeet to rehearse with small groups during class time, Christensen keeps all of the students on mute. Sometimes, just for fun, the teacher will ask her students to unmute and sing together. With various lag times in transmitting the audio, the students' voices never quite match up, which is why the teacher asks them to stay muted.
Instead of being unmuted during class, students send a recording of themself to Christensen. This allows her to hear their full voice without any type of audio delay, but occasionally background noises are picked up.
To teach the students, Christensen will record videos of herself singing the selected piece so each vocal range group can learn their part. She's also used various software programs so the students can sing along with just the instrumental part of the songs and learn the tempo.
"Kids have gone the extra mile to get this done," she said. "They stayed in choir even though they knew this was going to be a challenge."
There are no mute buttons in play when Waterloo has in-person choir instruction, but it looks much different than in the past. All students are required to wear face coverings to prevent any possible coronavirus transmission. The masks might be helping keep children healthy, it does create a challenge when Ulichny — currently in her second year teaching in the Waterloo School District — is trying to hear some of the voices.
"Students who are confident and more outgoing singers I can hear, students who are new to choir and haven't developed their voices are hard to hear," she said.
Due to this, assessments will be conducted from recordings each choir member sends to their instructor.
But, for the students who are receiving virtual instruction, masks are not required.
The Waterloo choir teacher has found music is one of the classes where it works best if students are present, but she understands virtual instruction may be a better choice for some families.
"With the Wednesday format (when no in-person classes are held), we are able to see more students in lessons — in person and virtual — and this is benefitting us by helping to create positive relationships. I get to know the kids better and help them to build their confidence as singers," Ulichy said.
In Waterloo, where the choir room is too small to allow for social distancing, the new fieldhouse serves as choir class space. All of the students are seated six feet apart.
"Other districts are singing outside in a tent, despite the weather," she said.
Christensen made a similar comment about music classes being conducted outside in places with warmer year-round climates, a luxury Wisconsin does not have.
A major component of music classes are performances, but with restrictions in place, concerts will look much different. Christensen will be working with the district's technology director to utilize software to stitch together each of the student's voice recordings to recreate the sound of the full choir performing together.
Ulichny said after speaking with other members of her department, it was determined the students participating in choir and band may have informances or virtual concerts instead of using the method Marshall is undertaking.
"We feel that recording a rehearsal, with virtual students having the option to come and sing in person, is the best way to give our students a performing opportunity," she said.
Ulichny does have a couple upper classmen working on senior recitals that will be recorded and aired online.
As for the middle school choir, once class is underway, Christensen meets with roughly half the class to work on either the harmony or melody of the songs being used for the recorded performance.
She is concerned the middle school students are missing out on the experience of performing live, but is happy the choir will still be able to share a video performance with their families.
Christensen began working with the 30-member show choir last week. This group typically will fan out into the community to spread holiday cheer by performing carols. Instead of visiting various locations, the group – just like the first quarter choir students – will be sharing their voices with the community virtually.
The Waterloo show choir, comprised of 30 students in grades 7-12, had anticipated 2020-2021 being the first year it could compete. However, that will have to wait for at least another year as all of this year's show choir contests have been canceled due to COVID-19.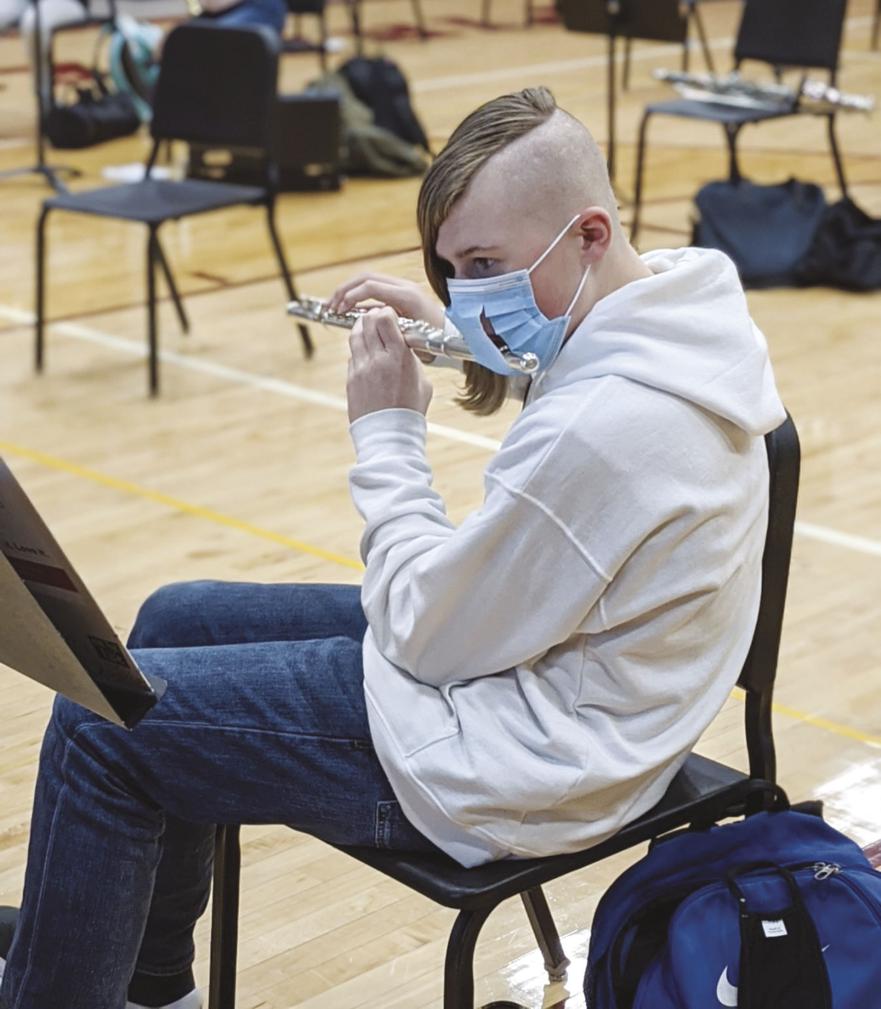 When the Waterloo intermediate/middle and high school bands rehearse, students aren't the only ones wearing masks. The instruments' bells, the openings at the end where the sound is released, all "wear" a mask, too.
The person and instrument masks are all in place to help decrease the potential spread of coronavirus, said band instructor Kirsten Haukness who is in her fourth year teaching instrumental music in the Waterloo School District.
Much like the choir, in order to have in-person instruction measures needed to be implemented to ensure the band students followed masking and social distancing protocols.
To abide by the face covering requirements, the students all wear "band masks," which Haukness described as pieces of overlapping fabric that allow the youth to play their instrument while still being safe.
Ensuring a minimal six-foot social distancing means band class is now being held in the gym.
"We are getting used to playing this way in the gym- the acoustics aren't great and it is hard for us to hear each other," the teacher said. "Each rehearsal gets a little better."
Haukness said students who opt for remote learning follow along with class during rehearsal via Google Meet.
"To be honest, teaching during the pandemic has been very difficult. Band is complicated and requires so many new measures to keep our students safe. However, there have been some positives," the teacher said. "While waiting for our band masks and bell covers to arrive, we were able to focus on other aspects of music, such as composition and music history. This time has also provided great leadership opportunities for my students."
Similar to the school choirs, Haukness is hoping to record the pieces the bands are learning for a virtual concert that families can enjoy.