Dane County is on its way to going 100% renewable, and it's Cottage Grove at the center of another project that County Executive Joe Parisi says is going to help get them there.
On Thursday, Parisi and Alliant Energy Vice President of Business Planning JP Brummond held a press conference in McFarland to announce a partnership to develop 140 acres of county-owned land in the town of Cottage Grove into the largest solar field in Dane County.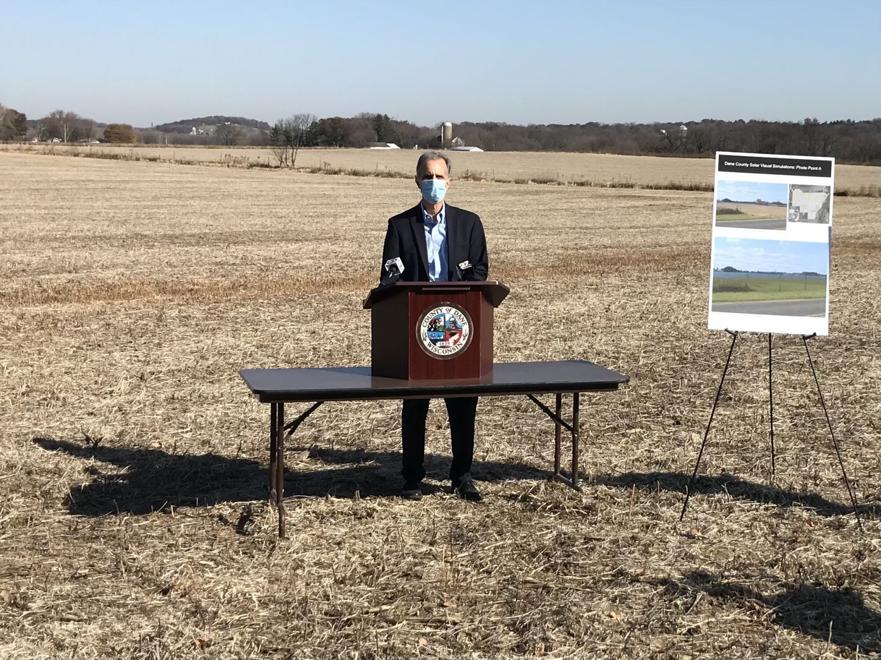 The proposed 16.5-megawatt solar field across from the Dane County landfill and adjacent to the county's East District Highway Garage would include over 55,000 solar panels, which would produce enough renewable electricity per year to power 3,000 Dane County homes, according to a release from Parisi.
Once this project is complete, the county will lease the 140-acre property to Alliant Energy, pending Dane County Board approval.
Alliant Energy will then take the power from the solar field, while Dane County will collect the Renewable Energy Credits from the site, which will help the county reach its Climate Action Plan goals. Dane County hopes to reduce greenhouse gas emissions by 45% by 2030 and net zero emissions by 2050.
"We are excited to partner with Alliant Energy on our largest solar project yet and become 100% renewable at our facilities. Achieving this milestone is a win-win, benefiting both the environment and Dane County taxpayers for many years to come," said Dane County Executive Joe Parisi. "This installation will create local clean energy jobs and help combat climate change."
Alliant Energy also has its renewable energy sights set on 2050. By 2050, the company hopes to be net-zero on its carbon dioxide emissions.
"The new facility represents another step toward our Clean Energy Vision and achieving our aspirational goal of net-zero carbon dioxide emissions from the electricity we generate by 2050," Brummond said.
Currently, the largest solar farm project in the works in Dane County is the future 9-megawatt project at the Dane County Regional Airport.
This new project in Cottage Grove is different than the project at the airport, in which Dane County will purchase electricity from Madison Gas & Electric, another company which also plans to be net-zero by 2050.
That plant's electricity is enough to power 40% of Dane County-owned buildings. At this plant, the power will head from Alliant Energy directly to its customers.