Last of a two-part series

Opportunities for improvement in Emergency Medical Services in Jefferson County, in light of shrinking staff and growing demand, have been realized as a result of a study conducted this year.
An in-depth analysis of EMS capabilities and challenges in Jefferson County by the Wisconsin Policy Forum has found that greater collaboration among existing providers, and potential involvement by county government, could be useful in addressing challenges and in preparing for the future.
The forum's research revealed that EMS providers in Jefferson County could consider several forms of enhanced collaboration.
"Those options range from small-scale activities that could be implemented relatively easily, to larger service-sharing arrangements that may require intergovernmental agreements among individual municipalities and/or the county," Wisconsin Policy Forum President Rob Henken said.
Small-scale, service-sharing steps include joint training, quality management, case management, dispatch and advocacy — either among groups of providers or in a uniform fashion — across the county.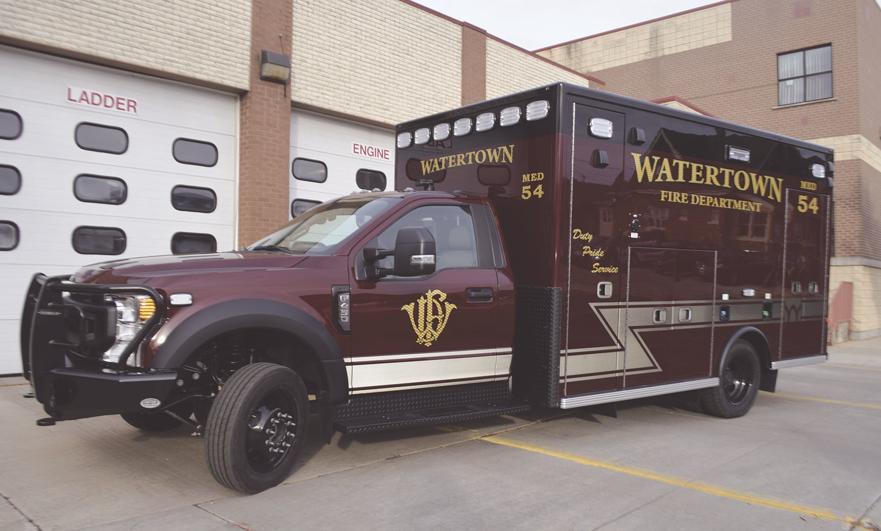 "Some of these steps could be initiated simply through establishment of regular joint meetings among the county's EMS leaders and enhancement of recent efforts to promote greater coordination among its medical directors," the Forum said.
The most ambitious approach would be to consolidate some administrative control for EMS at the county level.
This is a model in which Jefferson County would coordinate countywide EMS standards and protocols, training, medical direction, and dispatching, while also providing financial support to raise the pay of part-time staff and support enhanced staff capacity.
This would be a comprehensive strategy for addressing challenges identified in the report.
"Of course, this also would be the most expensive approach and would necessitate a willingness among the individual agencies to relinquish some of their own administrative control," the Forum said.
Jefferson County Administrator Ben Wehmeier said Jefferson County is amenable to working to improve EMS service in the county as the future offers new challenges.
"The county is supportive of assisting, in multiple ways, to help facilitate and collaborate in proactive solutions to support EMS service providers across the county in the efforts they perform daily to support our communities on the front lines," Wehmeier said.
He acknowledged the challenges facing EMS agencies are increasing.
"These challenges include increased costs, labor obstacles, regulatory/training requirements and rising calls for services. The county is a willing partner to help provide support in finding solutions to meet these challenges these agencies face so they can continue to provide quality care to Jefferson County," Wehmeier said.
The administrator added that, although it would be premature to discuss how county assistance would be funded, there are several ideas and solutions being considered that might be explored in more depth. He said the county could participate in these, with input and approval by the county board.
"A key part of this study includes dispatch — and the county is heavily engaged in providing this service now and will continue to look at investments needed to continue these services that support EMS," he said.
Watertown Fire Department Chief Kraig Biefeld feels greater collaborations with other entities on fire and EMS departments and units would benefit all.
The Watertown Fire Department currently covers part of the towns of Emmet, Shields, Watertown and Milford, and currently provides EMS transport to the Town of Lebanon.
"The fire and EMS service has been noticing for the past few years the decrease in people willing to volunteer for their local fire and EMS service," Biefeld said. "The Watertown Fire Department has also noticed a noted decrease in people applying to full-time departments. In the past, most of the training was completed in-house and allowed members to operate sooner as a firefighter. Now, a lot of time goes into training for a fire certification and EMT license. This training may take someone a few years to complete to meet the requirements to be able to go into a fire and perform as an EMT."
Biefeld said that, even before the study Jefferson County, many of the fire departments and EMS agencies have been working with each other to ensure that their community is protected.
"This can be seen in several EMS agencies sharing personnel for EMS coverage, to fire departments providing shared services," he said. "We also, unfortunately, are seeing more and more fire and EMS departments closing their doors after many years of service to their community, due to not having enough people to volunteer."
Biefeld said fire and EMS services in the area also use the Mutual Aide Box Alarm System to help with large incidents. MABAS is a pre-planned program that allows a dispatch center to call area departments to a scene without the incident commander specifically asking for them.
Biefeld said the Watertown Fire Department, like any other department in the area, is looking at how it can continue serving the community in the best ways possible.
"The area's fire and EMS departments are looking at setting up automatic aid agreements for large incidents, or service coverage agreements," he said. "When one community cannot get its first engine or ambulance to a scene, another community would be able to respond."
As for the future, Henken said he and Jefferson County officials are discussing the possibility of doing a virtual public meeting and presentation of the EMS report, to which elected officials and key stakeholders would be invited.
"We will also make ourselves available to present to individual municipal councils and boards," Henken said.