JANESVILLE — It is difficult to convey the intensity with which Bryanna Pettera uttered these words:
"Daddy, I did it! It was awesome!"
Dripping wet from the Rock River in Janesville's Traxler Park, the 9-year-old had just finished water skiing for the first time.
She was one of 42 people with disabilities who skied on a special rig pulled by those powerful boats that pull water skiers during local show ski tournaments.
Bryanna, who has Down syndrome, was frightened before taking to the water. She covered her eyes with her hands, said her father, Alic Mattingly.
"Awe-some!" the diminutive 9-year-old Edgerton girl repeated several times, the word seeming to emanate from the core of her being.
An organization called Graceful Wakes provided the equipment and 50-plus volunteers to get 42 skiers with disabilities on the water. Many were skiing for the first time, strapped into a chair mounted on a single ski about 12 inches wide.
Two "side skiers" skied alongside, providing encouragement and stability. The side-skiers spent most of their time doubled over so they could keep their hands on the novices and give guidance.
More volunteers—many from the local Rock Aqua Jays ski team--helped the skiers in and out of their rigs in the shallows in front of the grandstand.
Tony Sanchez of West Allis, 20, also returned from the river with a smile. Tony has autism and epilepsy and doesn't speak.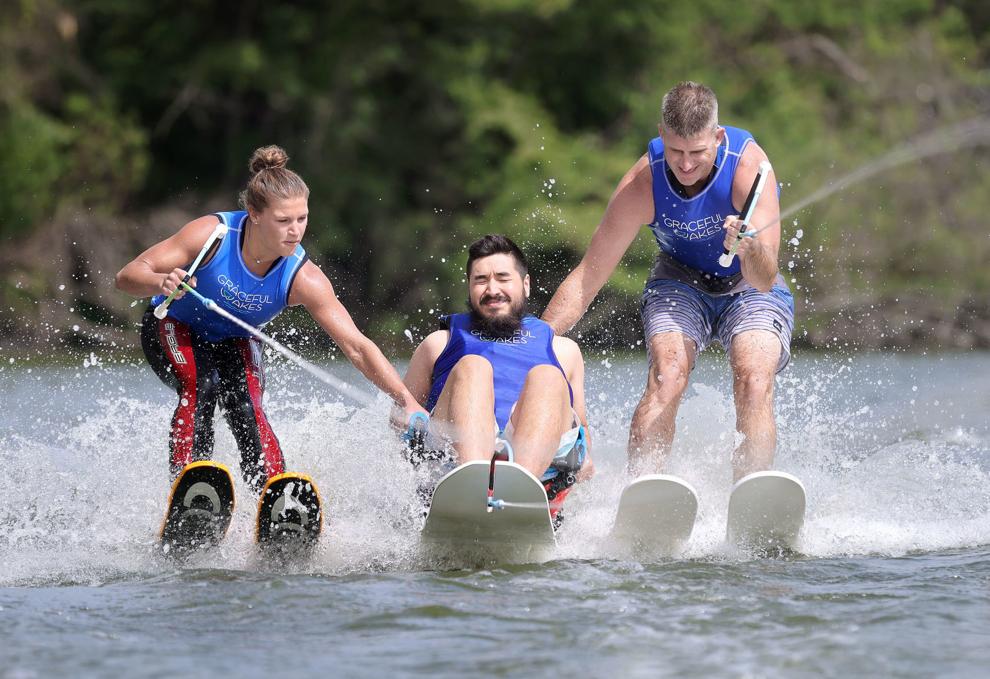 Tony's mother, Hani, said she signed up after seeing a notice of the event on Facebook.
"I figured it would be a great experience for him because he's going into surgery next week," she said.
The surgery will implant a device that sends electrical impulses to stop or at least help with epilepsy attacks, Hani said.
It worked out well. Tony ascended from the shoreline smiling and got a kiss from his mother
"I've never seen anything like this before. What an opportunity for my son," Hani said. "I never thought he'd be water skiing. It didn't seem possible."
Bethany Austin, 30, has a learning disability and was "terrified" before she was towed up and down the river, said her mother, Robin Austin of Janesville.
"She was crying before we came," Robin said. "I was really excited for her because she needs to do things she has never done before, and this will push her. She stays home most of the time."
"I was really shaking," Bethany said.
But before the boat reached the nearby Veterans Memorial Bridge, she was having fun.
Bethany returned to the shore with a huge grin on her face, as did many others.
The 42 who signed up to ski Friday was a record for the organization. Many stayed around for a second or third trip up and down the river with water spraying and wind in their faces.
"We usually let them go as many times as they want," said Grace Petzold, the 20-year-old from Mequon who started the organization five years ago.
"No one gets too scared. We take it slow," said Petzold, who skis with the Aqua Jays.
The skiers reach speeds of about 20 mph, which can seem a lot faster than it is.
Petzold was 15 when her mother, who uses a wheelchair, skied for the first at an adaptive water skiing event in Florida with her husband and daughter.
Wendy Petzold, recalled what came next: "Grace said, 'Mom, Dad, I want to do this for others.'"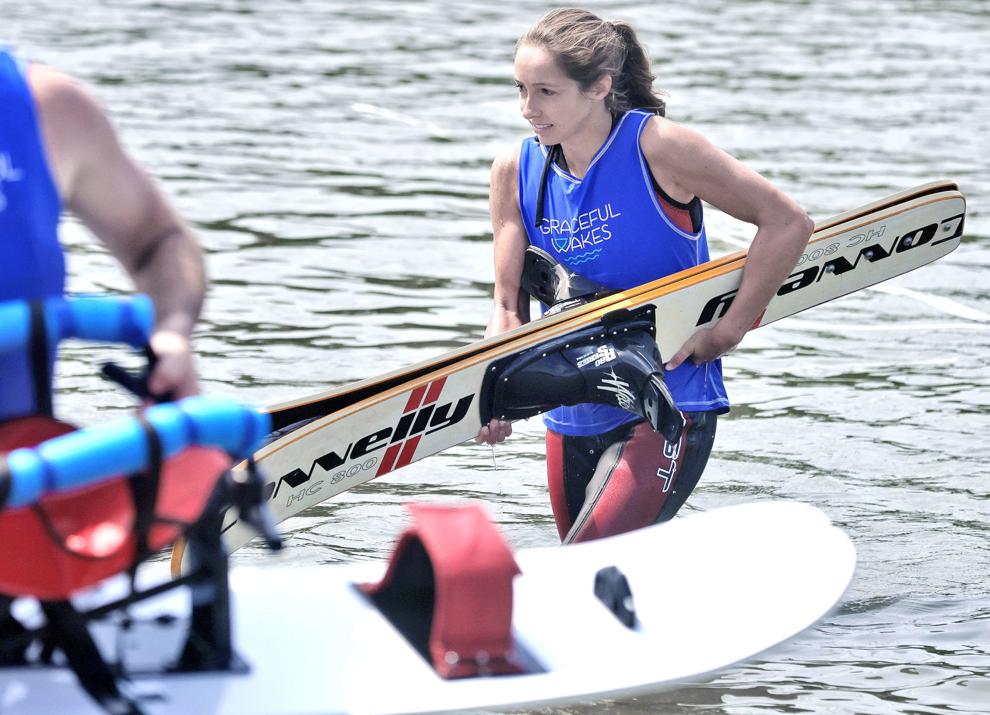 Grace, now a pre-medical student at the University of Pennsylvania, learned about nonprofit status, fundraising and business sponsorships in order to buy the equipment and a trailer to haul it and to keep the free service going.
"I work on it year-round," she said.
Except for last year, when a planned event in Janesville was one of many that had to be canceled because of the coronavirus pandemic.
"I get paid in smiles. Our clinics are the highlights of my summers," Grace said.
Wendy worked the registration table Friday while her husband, Andrew, drove one of the boats. The events are highlights for the whole family, Wendy said.
Their rewards were apparent when first-timers stepped out of the water, triumphant and glowing.
And if they wanted to see those smiles again, all they had to do was ask if the novice skiers wanted to do it again.
The ear-to-ear grins would reappear, and as Bethany Austin put it: