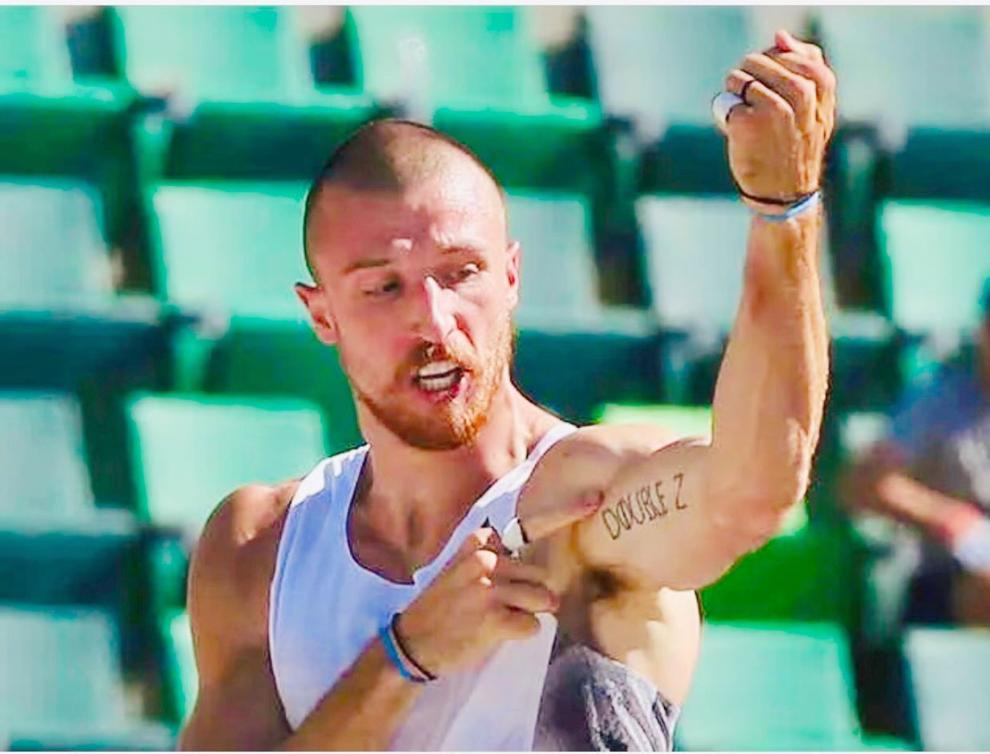 Sun Prairie resident Zach Ziemek will represent the United States of America at the 2020 Summer Olympics in Tokyo after qualifying for the decathlon event during Olympic trials in June.
"We're kind of a jack-of-all-trades. We're kind of just average at 10 events, but once you get to watching it and knowing the work that goes into it and what it takes over two days, I personally think it's a pretty awesome thing and pretty cool to watch," says Ziemek.
Ziemek was born in Intasca, Illinois and graduated from Lake Park High School in Roselle, Illinois. Ziemek attended the University of Wisconsin-Madison and now resides in Sun Prairie, while his parents reside in McFarland.
A third-place finish in this year's trials earned Ziemek a spot in the Tokyo games. Ziemek previously competed in the 2016 Olympics in Rio de Janeiro, placing seventh in the decathlon event with 8,392 points. In the decathlon, athletes compete in 10 events over a two-day span.
"Everyday is training. You have to touch on some certain stuff, but you obviously can't touch on everything. Right now I'm training between three and five hours a day at the track, touching on a couple of events a day. Then I have a couple of hours of medical treatment before and after practice to really make sure I'm staying healthy, and that my body is right," said Ziemek.
Ziemek will compete in five Olympic events throughout the day on Wednesday, Aug. 4, including the 100-meter dash, the long jump, the shot put, the high jump and 400-meter. On Thursday, Aug. 5, events include the 110-meter hurdles, the discus throw, the pole vault, the javelin throw and the 1500-meter.
"I've always loved the pole vault. It's a fun event which helps that I'm good at it too, so it's my best event," said Ziemek.
In the 2016 Olympics, Ziemek placed third in the pole vault with a height of 5.2 meters. Ziemek also placed third in 2016 in the 100-meter and the discus throw, earning his highest finish for the events. Graduating from UW-Madison in 2016, Ziemek competed for the Badgers in the pole vault, the long jump and triple jump.
These Olympic games will be different from years past. The COVID-19 pandemic has caused the games to be delayed by a year and has forced athletes, like Ziemek, to find different ways to train while navigating safety procedures.
"For a couple of months, I was lifting at my home in Sun Prairie in my garage, I was biking in the basement, I was running outside and then it turned into me driving from Sun Prairie to Verona High School to meet up with my coach," said Ziemek, who was also coming off a major hamstring injury suffered during the 2019 outdoor season.
Zach Ziemek shot put
Former Wisconsin Badger, Zach Ziemek competes in the shot put event. In 2016, Ziemek finished seventh in the decathlon.
The National Olympic Committee still plans on holding the games. However, after Japan announced a state of emergency with COVID-19 cases trending upwards, no fans will be allowed in attendance at the games.
Ziemek will travel with his head coach on July 24, and will arrive about 10 days before the competition begins. Ziemek said he's fortunate that he competed in front of family and friends in Rio de Janeiro in 2016 and can focus on the events this time around.
"The main thing that I'm most excited about is that I'll be able to compete in the Olympics," said Ziemek. "My coach will be there, so I should be able to have a great performance."
Including Garrett Scantling and Steve Bastien, who will also represent the United States of America, Ziemek will compete against 24 competitors from around the world. Ashton Eaton, the winner of the 2016 Decathlon, retired from competition, leaving the door open for a new winner to emerge.
With previous experience from 2016, Ziemek knows the rigorous schedule the decathlon event will bring.
"This will be my second Olympics so I know the schedule, I won't really be nervous," said Ziemek. "I have my main goal in mind this time, when I made it 2016, I was still at the University of Wisconsin, I was just graduating so to make the team was incredible. I thought I had a chance in 2016 to medal, and I wasn't too far off and I thought to myself, 'wow four years turned into five.' I really think that I could win a gold medal."
The opening ceremony for the Olympics will begin on Friday, July 23, and the closing ceremony will take place on Sunday, Aug. 8.