The Waunakee High School drama department wrapped up production of its 2021 spring musical May 26, drawing the curtain on a year of unprecedented challenges for the student organization and its members.
"We never knew what the next week was going to bring with COVID," said vocal music teacher Molly Petroff, who helps direct Waunakee's spring musical. "But we felt that we needed to give them an opportunity to do something that would lift their spirits, because these are kids who love to perform. So we just felt it was really important for them not to miss out on that experience."
Producing the show during a pandemic would take creativity, and several months of preparation.
Planning for this year's musical began in the fall, with advisors selecting a composition students could perform under limited direction. COVID-19 restrictions prohibited in-person gatherings, meaning rehearsals would need to take place virtually throughout the course of production.
The department needed something that offered flexibility as well, so that directors could alter it in the event a student was unable to perform. They turned to the public domain, to see what was available.
"It was that, or one other thing we were considering was doing a review," Petroff said. "Just take a whole bunch of really great songs, put it together and create a script that runs through it. But that can get pretty hefty. There's lot of music involved there."
One musical the drama department had yet to produce, which Petroff described as a composition she had wanted to direct for a number of years, was an operetta called "The Pirates of Penzance." The musical was written by 19th-century composers W.S. Gilbert and Arthur Sullivan, and tells the story of a young man bound to serve as an apprentice to whimsical pirates until his 21st birthday.
After completing his apprenticeship, it is discovered that the young man was released too early, and that he should remain apprenticed to the pirates for another 63 years due to his being born on a leap year.
Drama director Rick Braun said the comic plot offered a welcome contrast to the past year.
"That's kind of why we chose it," Braun said. "You know, there's no seriousness to it. It's not a musical like 'Into the Woods,' where there is really deep messages and things like that. This is just frivolous and silly. But this year, because of COVID, we wanted to do something light and where we knew that there wouldn't be any worries about copyright issues."
The directors spent the next few months trimming the script, taking the original two-and-a-half-hour operetta and cutting it into a single-hour show. Petroff said reducing the runtime allowed her department the option to record the musical, which later proved an important decision.
The process was time-consuming, but by the beginning of February, they found themselves ready for auditions. The only question was how to conduct them.
Activities involving musical performance remained virtual, meaning tryouts for the various singing roles would need to take place virtually as well. The directors decided to sample three songs for each character, and sent the samples to students who were auditioning for that role.
The students recorded themselves singing, and submitted the recordings as their audition pieces.
"And then we did some callbacks for a couple of roles," Petroff said. "Maybe we didn't hear them the first time, or we asked them to do a little bit more in-depth with that character. It was like giving them another shot to see, really, who would fit well."
The final cast was announced mid-February, at which point production could truly begin.
With group time limited to half-hour Zoom meetings, members of the drama department knew that rehearsals would need to be conducted differently than they had been in years past.
It also meant vocal work would be more of an individual responsibility than ever before.
"We purposely kept our rehearsals short as possible," Braun said. "Essentially, a rehearsal would entail getting the kids, talking to them for a little bit, maybe running through a few things and then sending them off on their own to record their music once they were comfortable with it."
Stage work and blocking took place as students returned from spring break, which the directors described as one of the more traditional aspects of this year's production.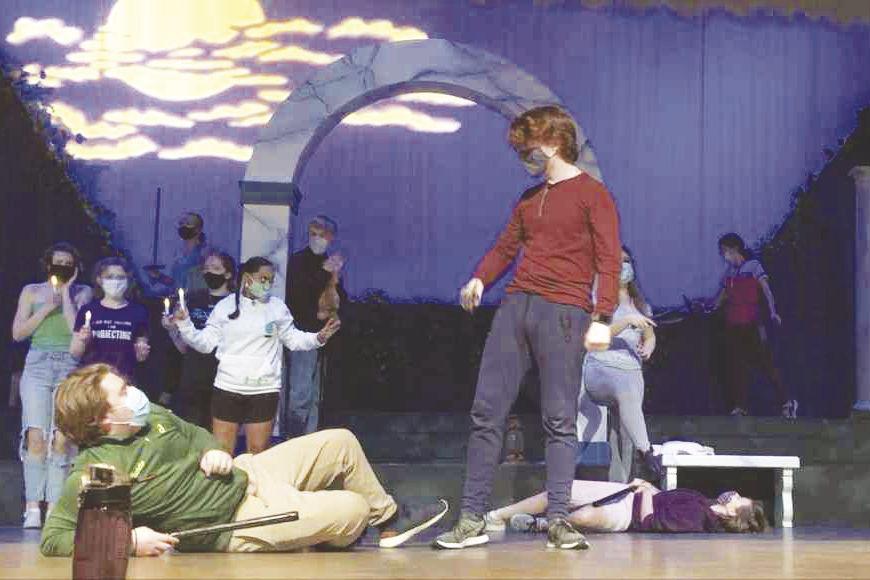 As the end of the schoolyear approached, it became increasingly obvious that a virtual show was all the department would have to look forward to. Members decided to make the best of the situation, and put on as polished a final product as they could.
Over the final month of production, singers recorded take after take of their parts, taking advantage of the rare opportunity for a redo. For some, recording took place in their bedroom.
"My recording studio was my closet," said graduating senior Elena Paul, who played the part of Mabel. "The clothes in there kind of absorbed the sound, so there wasn't as much reverb. I would just take my binder into my closet, put the music on my music stand, press record on my phone and go from there. And if I didn't like the take, I would do it again. Recording lets you do that, which is kind of nice. It's not like you have to knock it out of the park the first time. But yeah, I recorded in my closet."
Braun and Petroff spent the final weeks editing the recordings, and layering them to make the final product. Braun said he believes students and the rest of the community will find it enjoyable.
"I've never been a fan of videotaping plays, because theater is meant to be a communal thing. To me, that's the magic of it. But I think the video captures the enthusiasm they had in performing it," Braun said.
The performance was shared with cast and crew members on May 27, and made available for public viewing the following day. The full performance can be viewed online, at http://bit.ly/whspirates.