Waunakee Community School District residents expressed opposition last week to the dissolution of a diversity, equity and inclusion (DEI) committee charged with reviewing policies and practices that could better support DEI in the district.
The committee dated back to early 2020, when board-of-education members acknowledged that a more proactive approach was needed for identifying areas in which the district should improve.
One member proposed a DEI committee as an avenue through which that could be accomplished.
The DEI committee was approved that spring, with a charter that called for no less than 12 members to serve on the new body. Membership consisted of administration, staff, students, parents and other community members who were selected by board members via an application process that residents were informed about through a news release shortly after its establishment.
Committee members were tasked with reviewing district policies related to civil rights and labor laws, hiring practices and curriculum, and then developing recommendations for improvement.
"We worked very hard," committee member Diane Treis-Rusk said. "It took some time, I think, for all of us to create a working relationship so that we could really delve into the seriousness of the work and look at the data. But part of the richness was that we had broad representation."
Committee members spent the past year conducting an equity audit to identify opportunity gaps in the district, and developed more than 40 recommendations for school officials to address them.
The recommendations were met with mixed feedback, as some criticized the committee's membership and its intentions.
Waunakee school-board members considered changes to the membership this fall, but ultimately decided to dissolve the committee in favor of a new body made up of school officials.
"We decided to make the DEI committee more of a district committee," school-board president Joan Ensign told district residents at the board's annual meeting last week. "I can't outline at this time exactly what that committee will look like. I need board input into that. But as we move forward… we want to move the work closer to the administrative team, to make it more effective."
More than a dozen DEI advocates attended the Oct. 18 meeting to protest that decision.
Waunakee High School parent Cassandra Punsel said community members have always had administrators at their disposal when issues have needed addressing. Punsel said that's been ineffective, however, noting that there was a lack of trust between families and administration.
That's one of the reasons the DEI committee was established in the first place, she said.
"If trust already existed with the current board and the current administration," Punsel said, "you would not have needed a whole entire committee to begin with."
Punsel noted that the district had held a community-engagement meeting on the topic of DEI in September, during which several students shared experiences being harassed or discriminated against in school. The students were commended for the courage to stand up and share their testimonies, and assured by officials that work to improve the school climate would continue.
The DEI committee was dissolved two weeks later.
"There were people on that committee that have some community trust already and that people in this community felt like they were listened to, they were heard and they were actually going to take some sort of action," Punsel said. "So I'm not necessarily faulting you guys. But the fact that you dissolved that last committee, I don't think you understand. It was like breaking a promise to a whole lot of kids – especially those kids that were brave enough to stand up and speak."
Waunakee High School students protested the decision to bring the committee in house as well. One student provided public comment at the annual meeting, expressing concern about whether the new committee would be a safe place for her and her fellow students.
"I just want to make sure that DEI is going to be a safe place for me and students like me to bring our concerns, our beliefs and our opinions forth," the student said, "because I am worried that I will speak out about something that's important to me and I will be shut down or treated differently because of who I am or a disability that I have."
DEI committee chair Joel Lewis noted that the committee and other leaders had received a lot of information about things happening in the district which school officials were likely unaware of.
Some involved allegedly criminal behavior, according to one parent.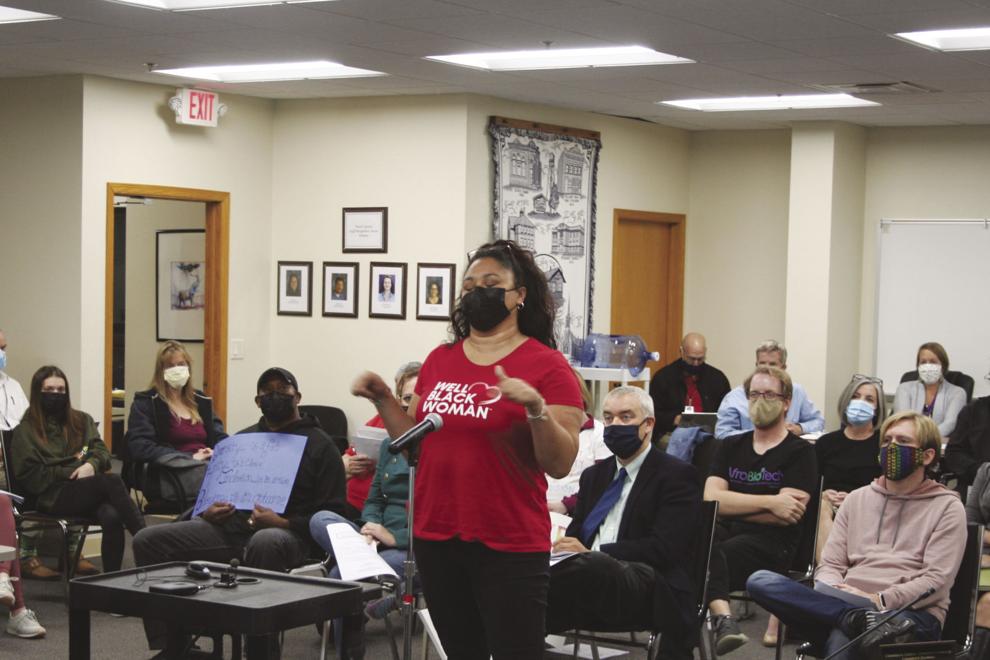 A local advocate for DEI efforts, Punsel said she had been approached by families with concerns that they didn't trust administration to handle appropriately. Punsel said several had come to her in the week leading up to the meeting, reporting that their daughters had been sexually assaulted at school.
"And we were providing hope to our kids that these kinds of things were going to be addressed by virtue of the DEI committee," Punsel said. "So if I have another parent come to me, like I've had three different parents this week come to me about their daughters being sexually assaulted – fourth degree, at least, if not worse – in the school, during school hours, what are they supposed to do?"
Treasurer Jack Heinemann asked why families hadn't brought those concerns to administration. Punsel said the school climate discouraged many from speaking up about issues.
"I'm telling you this from experience," Punsel said, "from personal experience. The climate that exists in the school currently needs to be addressed, because there's a reason why these kids and these families back down from it – because of the environment, the hostile environment that's allowed to persist. But who's listening? Nobody's listening."
Waunakee superintendent Randy Guttenberg said administrators can't do anything about incidents of which they were never informed, adding that they or the police need to be made aware of those situations.
"Whether you're a DEI committee or not, if you have that information, it's got to get shared," Guttenberg said. "To me, that's really concerning that I learn about it here at an annual meeting, as opposed to somebody calling us and letting us know what's going on in our schools or going to the police if we actually have criminal actions going on. Those are things we take extremely seriously and we address every time we see them."
The board of education will consider the establishment of a new board committee on diversity, equity and inclusion at its next meeting.
Waunakee resident and former village trustee Kristin Runge asked what community members with concerns should do in the meantime.
"In-between now and the beginning of a fully enfranchised board, if there's an issue related to DEI, what should the student or the parent who's affected (do)?" Runge asked. "I'm asking this because, by default, the presence of a DEI ad-hoc committee implied that if something's happening at the school, there would be an organization that was outside students and teachers that could address – or at least be a sounding board or receptacle – for information about what has happened. So between now and the active enfranchisement, what do we do?"
Director Brian Hoefer said administration is always available.
"They're the ones that are here full time. They're the ones that should be contacted if there's an incident," Hoefer said. "Whether it's great that they felt safe to take it to the (DEI) committee, we want to get to the point where we're taking of incidents – both in the school and in the district office – immediately, and not going to an ad-hoc committee to then bring it back."
Tribune staff followed up with district administrator Randy Guttenberg this week, asking what investigation had taken place into the allegations of sexual assault. Guttenberg provided the following response:
"There have been no reports of sexual assault or related activity at our middle school this year. Also, I contacted Waunakee Police Chief Adam Kreitzman, and there are no current cases or current reports of sexual assault or any type of related matters, involving middle school students," Guttenberg stated. "We need to continue to work on encouraging students and families to report matters such as sexual assault to the proper authorities so we can address them immediately. As school staff, we are all mandatory reporters by law, and matters of this nature that are shared with us need to be reported to the proper authorities."