A holistic wellness business has opened in a Waunakee Village Mall storefront, where a number of businesses have created a synergy of self-care.
Salt and More has joined other health-and-wellness practitioners, including LSM Chiropractic, Capitol Physical Therapy and Hometown Pharmacy. Just across the way is Sapphire Studios, housing a yoga studio and other spa-type businesses.
Salt and More offers halotherapy, using salt to treat respiratory problems. It offers an adult and a children's salt room, where clients can spend a 45-minute session relaxing in a beach-like atmosphere with a salt floor.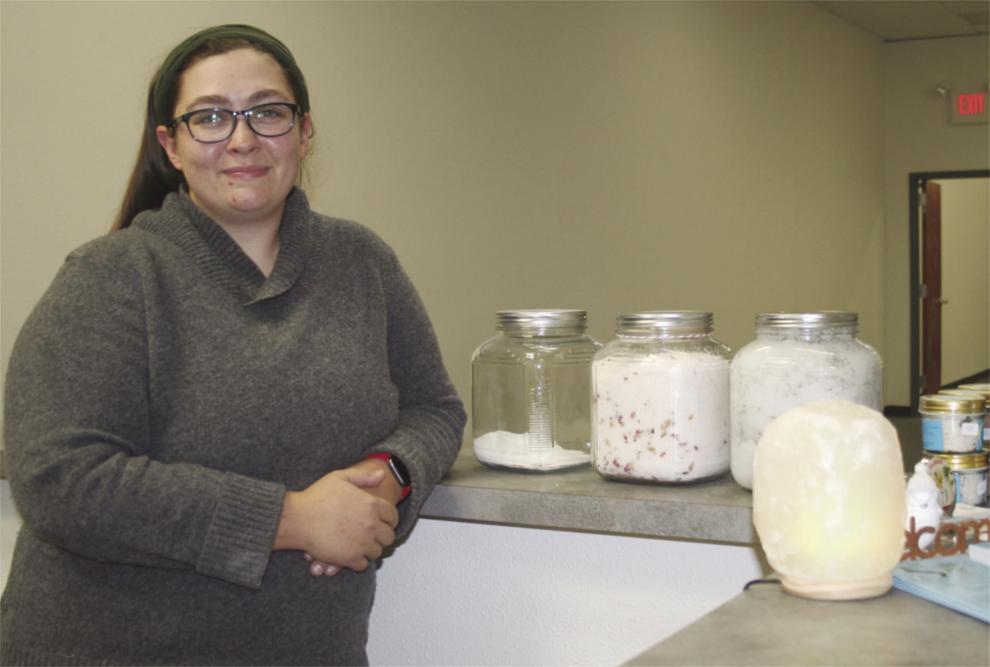 Owner Ashley Miller opened the business in October. She said her own asthma and a chronic sinus infection led her to try halotherapy.
Describing the therapy, Miller said fine particles of salt are blown into the air to help reduce inflammation in the sinuses and lungs, allowing the body to expel toxins.
Miller said she herself had developed allergies to "everything."
"I was toting around a 5-pound nebulizer and three medications with me everywhere I went," she said, adding she is allergic to a chemical in puff inhalers.
She began looking for alternatives and found marjoram oil helped, as well.
The pandemic exacerbated her respiratory issues.
"When COVID hit, it got worse because I am allergic to Lysol," Miller said, adding that all of the cleaning products used at Salt and More are alcohol, hydrogen peroxide or vinegar based.
"I try to do everything as scent-free as I can – not just for myself, but I have other clients who cannot tolerate fragrances," Miller said.
Miller found a halotherapy practitioner on Madison's east side.
"I started trying it, and pretty soon I wasn't hauling around my nebulizer anymore," she said. "And the problems I was having were just starting to melt away. It really changed my life. I'm an avid cyclist and my nebulizer weighs a third of what my bike does."
The "more" in the store's name refers to other holistic therapies, such as an infrared sauna. Not only do sauna sessions help to soothe aching muscles, they are also known for detoxification. Another room at Salt and More includes UVB lights that help the body process vitamin D to absorb calcium and to boost the mood.
Originally from Waukegan, Miller moved to Wisconsin as a child. She lives in Portage with her boyfriend, but hopes to move closer to Waunakee. Raised on a dairy goat farm, Miller said she has always tried to help others and has been interested in herbal medicine for some time. Previously, she worked at Cardinal Glass in Portage.
"We all have a body and so many of us don't know how it works," she said.
Miller creates salt scrubs and masks, using essential oils for their unique healing properties, and she has a vast knowledge of their uses.
She hopes to add other therapies, she said, such as compression boots and sound-and-light therapy to treat anxiety and depression, what she called a "shortcut to meditation."
"There's a lot more to the 'more,'" she said.
Information on all that Salt and More has to offer can be found on the company's website, saltandmorellc.com.